26 Apr 2010
Is the Great Reskilling Already Underway? BBC Radio 4's 'Food Programme'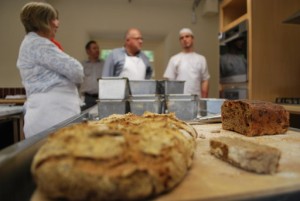 I spent yesterday afternoon in the village of Tuckenhay, a few miles from Totnes and on the Bow Creek, a spur that comes off the River Dart.  Beautiful place, now largely a mix of very expensive houses, second homes and holiday cottages.  There was a time when it was a vibrant working village, home to a papermill that made bank note quality paper, and a range of trades.  Walking past 'The Old Bakehouse', 'The Maltings' and several other housenames indicating the former role of the houses, I was reminded of an amazing programme on Radio 4 yesterday morning that suggested that the reskilling required to support a  more localised world on a meaningful scale may already have started. 
The Food Programme is often thought-provoking and insightful, but yesterday's, which you can hear here for the next 6 days (with apologies to non-UK listeners), had me glued to the radio from start to finish.  It began by talking about DEFRA's Food 2030 report, which argued for the reskilling that would be necessary for a more food secure nation, but failed to then suggest how to actually make that happen.  The subject of the programme was the School for Artisan Food in Nottinghamshire, which is training a new generation of bakers, cheesemakers, meat curers and so on, the initial idea for which came when the now director wanted to set up an artisan bakery, but couldn't find any bakers, in spite of months of advertising and interviewing.
The programme offers a taste of what it will be like when the shift in focus of what we train people to do shifts.  The manager of the School talked about how many people who used to work in banking have now begun doing courses at the School.  The part that really struck me was the guy interviewed who had set up a cheese businesses, who said that when he got started, he could find loads of courses on how to double your herd size, how to scale up, how to reimagine your business for the export market, how to grow your business, but none on how to set up a small business designed to stay small and to generate a good living for a few people.  This programme offers a taste of the more localised, better skilled, more resilient future that will inevitably alter how we conceive training and the setting up of new businesses.  Essential listening.
(Photo courtesy of BBC Food Programme's website…).