11 Jun 2010
Some Thoughts on the First Evening of the 2010 Transition Network conference…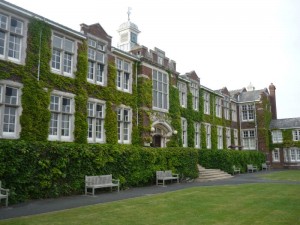 Here are a few brief reflections on the opening evening of the Transition Network conference.  When we found out that we couldn't run the conference in Forest Row and had to find a new venue from scratch with about 6 weeks notice, in finding Seale Hayne Agricultural College, we found a gem.  Like a smaller and more homely version of the Royal Agricultural College which hosted the conference 2 years ago, the buildings are beautiful, and, as people arrive, they instantly seem to feel at home.  The College sits high on a hill looking out over the rolling Devon countryside with its many sheep, the town of Newton Abbot sits at some distance over the fields.
Seale Hayne used to be run by the University of Plymouth as an agricultural college, but unfortunately, given that no-one wants to be a farmer any more, it was closed a few years ago.  After a period where lots of organisations bid to secure the site, the Dame Hannah Trust bought it a year or so ago, turning it into a centre for people with learning difficulties to learn skills in a residential setting (at least that's what I've gleaned so far from wandering around the site).  The Transition Network conference is the first big event to take place here since the Trust bought the site.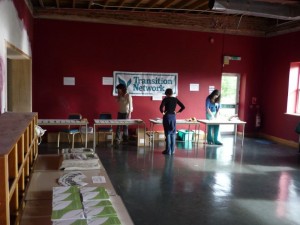 On arrival, I set up the pattern language stuff on the wall in a corridor for the workshops I am running on Sunday, moved things around, and generally mucked in (pic on the right shows the reception area being set up).  People slowly started to arrive, and by 7.30pm, was started to feel very busy.  What has been fascinating is how few of the nearly 300 people I know…. lots of people I have spoken to are attending a Transition Network conference for the first time, which is great.  There are also, of course, lots of old and dear friends as well!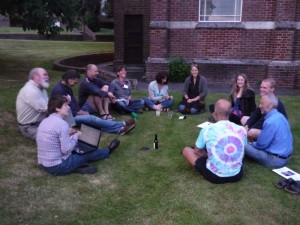 After supper, we had a team meeting out on the grass to make the final arrangements for tomorrow (see left).  Tomorrow will be mainly Open Space sessions, the big group mapping exercises, and sharing stories in subject specific groups.  Oh, and England against USA of course, on the HUGE screen that has been set up for the occasion.  Ah, just when it didn't look like it could get any better.  Right, I'm off to bed, long day tomorrow….