1 Dec 2010
Snow, gratitude, resilience and trains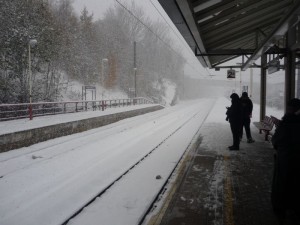 Well, today has been one of those days.  The plan was that I was meant to be speaking at the Ellen MacArthur Foundation's event on 'closed loop economies' at Bradford University which looked like it was going to be great, and then going on to give a talk for Transition Hebden Bridge before heading home again.  I was really looking forward to both.  I didn't reckon though on the wild wintery weather affecting the north, south-east and east of the UK.  The whole thing went rather pear-shaped in the end, and meant I spent about 13 hours today on trains!
I left a snow-free (but very cold) Devon on the 6.50 train, and as the train headed north it became snowier and snowier and by the time I got to Leeds it was proper snowing, thick snow everywhere and a departures board full of trains running late or cancelled, and lots of people rather nervous about getting home, steaming either metaphorically in terms of their stress levels, or literally in terms of the melting snow on their overcoats.  I then got a train to Bradford which was absolutely packed, and when I got off in Bradford, it was even snowier, thick snow on the ground and great big snowflakes swirling around.  My instructions had been to get a cab to the venue, but once out on the street, it was clear there were very few cars doing anything much other than driving very slowly or spinning round in circles, such was the depth of the snow in the street.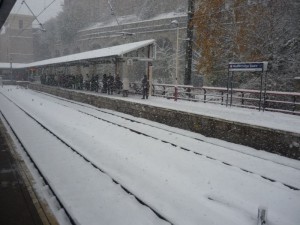 Just then, my phone rang, and there was the organiser of the event to ask where I was in my journey, because the venue had just decided to close due to the weather, and the conference had had to stop.  I had also just had a text from Helen at the Transition Network office to say that Hebden Bridge were getting nervous that many people would be able to make it to their event, so I thought right, there's nothing for it than going home again, if I can…
By this stage the snow in Bradford was coming down thick and fast as this short film I made on the station waiting for the train home shows (a little taste of the snow for those in the snow-free South West, such as my kids who were who I made the film for originally)….
In the end I got home at 8.30pm, a total of nearly 13 hours on trains.  It did mean that I got a good bit of work done though, but in the end I felt grateful just to have managed to get home.
It is one of those days where, in spite of it being a monumental pain in the arse, what I was left with was a sense of immense gratitude for all the people who keep the trains running, all the guys in the orange jackets along the side of the railway lines trying to unfreeze the points, the train managers who have no idea if they will get home again that night, the people out on the snowploughs, the farmers pulling people out of snowdrifts.  It is all too easy when things are uncomfortable to fall back into self-pity, perhaps it is more useful to hold onto a sense of gratitude to all those who keep it all together (or try to at least).
My lasting image though was of passing a huge out-of-town Tescos somewhere near Sheffield I think it was, with all the lights on and obviously open for business, but with a car park with about 2 feet of snow in it and absolutely no customers at all.  Perhaps the snow is great at showing us where resilience isn't, but also great at showing us where it is, and the resourcefulness, kindness and determination that can arise from adversity.