2 Feb 2011
How might we reminisce about the Age of Oil and Debt?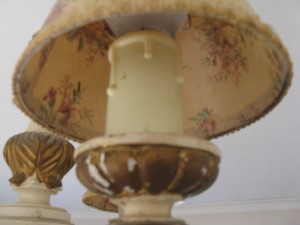 My aunt just moved house, and her new place contains many fixtures and fittings that almost certainly date from the early 1960s, which are, to say the least, rather dated.  There are those things in front of lights that look like a heavy glass ashtray, and a wide range of lampshades for which I feel pretty sure there is no highly valuable 'retro' market on Ebay.  One in particular got me thinking.  Modelled on what people presumably imagined lamps were like before electricity, it is a great clunky wooden thing with 4 arms, each of which has a 'candle' (a light bulb) on the end.  What I thought was fascinating was the detailing. 
This was manufactured and bought at a time when, one would imagine, people were delighted to have moved away from candles and oil lamps, from soot and dust and from wax dripping all over the carpet to electricity which was clean, bright and cheap.  Yet on this lamp, the plastic around the bottom of the bulb is moulded to look like dripping wax.
I thought this was fascinating (of course regular readers may suggest I should get out more).  Why, when designing a new cutting edge technology which supposedly was a great improvement all round on what had gone before, did the designer need to make it look like what had gone before?  And why did people choose them?  We still do it today I guess.  You can set your iPhone so that it has a ringtone that sounds like a 1950s phone and people still buy gas fires that look like coal ones.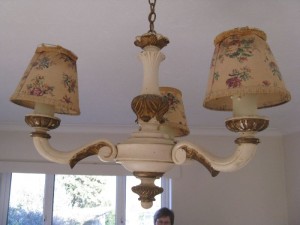 It reminded me of a talk I went to by someone from Toyota, talking about the next generation of electric cars.  He said that one of the problems people have with electric vehicles is that they are completely silent.  Firstly people don't like it because, in some situations, it can be dangerous because people don't get out of the way, but also because often people actually 'need' a car to make a noise.  As a result, they are looking at having a sample of a car revving its engine that could be played through speakers under the bonnet.
I wonder how, in a powered-down world we might reminisce about the age of mega consumption, high energy use and vast debt we live in today?  Might clubs of people, known as 'petrolheads', organise events where they wheel the last few remaining carefully tended cars out of garages, a bit like the vintage car rallies we see today, and use small amounts of petrol to recreate traffic jams?  All squashed into a small bit of road somewhere, revving their engines and sitting back with the windows closed listening to the radio?
Perhaps people will recreate the experience of transatlantic flight by going to the local theatre where they enter a bit box and watch films for an hour in uncomfortable seats, during which time the set on the stage is changes, and a group of actors all pretend to be New Yorkers and they all then role play a shopping trip to New York.
Perhaps local food shops will, given the demise of the supermarkets, hold days when they try and make the shopping experience as much like shopping in supermarkets had been.  Maybe there will even be a local 'Superstore Re-enactment Society' who have lovingly preserved old shopping trolleys, keeping them oiled and making sure the wheels still all go in different directions like they did in 2011, and they are allowed to take over the shop for the day and put '2 for the price of 1' posters everywhere.  The highlight of their year is the 'Sales Re-enactment', where local rivalries and feuds are fought out as a crowd of people try to elbow each other as much as possible in a new competitive sport (points awarded for each successful elbow or shove).  We might also still have those food dispensing machines, but filled with local food and treats, but still serviced and used because people still love the whirr and the "clunk' of their chosen treat dropping to the bottom for collection.
Perhaps people will buy 'Made in Bangladesh' labels to sew into their clothes, even though they are all now actually made up the road, just to reconnect with the possibility of far-travelled clothing.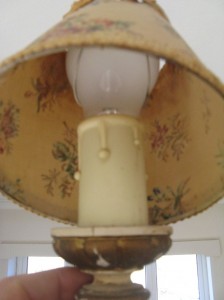 Perhaps there will also be 'Lawn Clubs', historians who are very knowledgeable about the role of lawns through history, who carefully tend the few small patches that remain (given that food is grown pretty much everywhere else) and offer tours of them.  They specialise in types of grass and talk in hushed tones and nerdy reverence of a time when carefully tended lawns covered acre upon acre.  They communicate through websites like 'greatlawnsofhistory.com' where this once revered form of land use is discussed in chatrooms and where the cultural role of the lawn in 20th century life is endlessly probed in erudite articles by academics.
There is so much today that we take for granted as just how things are, but when things aren't like that any more, and we live in a lower energy more localised world, what else might we nostalgically hold on to or design into our new world in order to keep a connection to 2011?