22 Mar 2011
'Asleep at the Wheel [where is our culture heading?]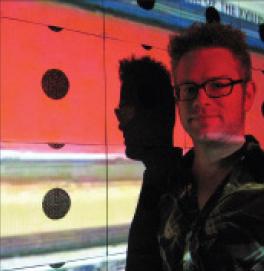 The role of the arts in helping to inform and inspire people around the issues of peak oil and climate change is one we have explored here at Transition Culture before.  It was fascinating to read about a recent project by 'sonic artist' Janek Schaefer, and his original installation produced as artist in residence for the IF:Milton Keynes International Festival 2010.  'Asleep at the Wheel' created a 'ghost road' of cars in an abandoned supermarket, and introduced people to thinking about peak oil and related issues in some intriguing ways (you can read more about it here).  Here is a short film about the installation:
https://vimeo.com/21206037
"I was invited to make an installation on the theme of 'cars' in the city of roundabouts. Through thinking around and beyond this theme, I learned a lot about the implications of the way we live, and how our ravenous culture is feasting on our own planet. Pumping ourselves to a peak. I created a 'ghost road' of cars within a vacant supermarket as an informative portrait of that mind set, and how we can change it. The exhibition reveals how I became enlightened towards making a difference personally, and also waking up those around me to move to a more sustainable way of living and thinking. I am not perfect, but I am now awake.
Asleep at the wheel… is a metaphor for how we are culturally careering down the fast lane of life in charge of a lethal weapon with our head in a daydream and our foot to the floor with the expectation that the road goes on forever.
The exhibition is a thought provoking and immersive sound installation for multiple car radios, that contemplates our future. Exhibited in a vast disused supermarket, three-lanes of cars dissect the darkened interior, as the multiple hazard lights illuminate the space, revealing the finite road of our consumer driven daydream. 'More more more' is no longer a desirable destination.
You are invited to be a passenger in the back seats, as the in-car sound systems broadcast a collage of moving music and motivating sound-bites. On the return journey the Lay-by Library area encourages you to explore positive ways to improve our future together. Society's pedal to the metal attitude to our world is not sustainable and is running out of road. We need to change gear, before we overtake ourselves . . . our windows of opportunity are slowly winding shut. Come and celebrate new beginnings".