30 Mar 2011
Heading East: a trip to Cambridge…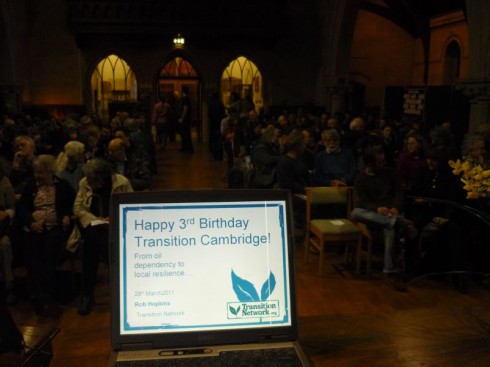 Just back from a fascinating couple of days away.  I went to an Ashoka Fellows retreat in the beautiful village of Great Missenden (home to the Roald Dahl Museum and many beautiful half-timbered houses), which brought all the UK Ashoka Fellows together to meet each other and for an intensive session of workshops.  The distance I had to travel meant that I arrived half way through the first day, but there were some great workshops on, among other things, social franchising, communications and recruitment.  Also got to meet some of the new Ashoka fellows, some amazing people doing remarkable work.
That night my room overlooked a rather nice pond thing.  All very nice, until four in the morning when I was woken up by a duck, quacking incessantly like a car alarm.  The pillow over the head was no use.  The window wouldn't open for me so I couldn't lob anything at it, and I really didn't fancy getting dressed, going out, and walking round to try and find the pond and attempt to throttle the duck.  The only thing I could think of in my sleepy state, and I'm not too impressed with myself here, was to try and flash it with the bike light I had in my bag.  Pathetic.  Needless to say being half-heartedly flashed by a distant LED bike torch did little to silence the duck.  In the end I found my headphones, the kind that go in your ear, and had to use them as substitute earplugs.  Not my finest hour.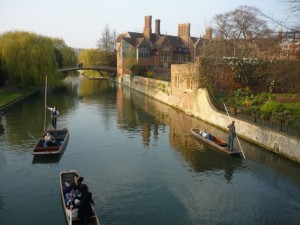 Anyway, the next day was more workshops, all useful stuff, and then off to Cambridge.  I was met at the station by Martin from Transition Cambridge, who took me to the United Reform Church, the venue for the evening's jollities.  I was a bit early, so had time for Martin to give me a guided tour of the beautiful city which I realised, much to my shame, I had never actually visited before.  I think that in the gorgeous early Spring evening sunshine, I saw the place at its finest.  We walked round the University buildings, along the river, along pedestrianised streets full of bicycles, and eventually back to the venue for the meal the organisers had organised.
People were there from Transitions Norwich, Peterborough, Ipswich and Chelmsford, to name a few as well as, obviously, Transition Cambridge.  The event was a celebration of Transition Cambridge's 3 years in existence, and the lobby had displays from some of the group's different working groups.
At 7.30 it was time to start.  The church was packed.  I talked for about 50 minutes, giving an overview of Transition and illustrating it with many of the stories of projects underway in the many and varied Transition initiatives.  Then we got people into groups of 4 or 5 to discuss the talk, and to digest their responses to it (see left).
This then led into a very good Q&A, which began, as all Q&As seem to these days, with a question about how Transition views, and interacts with, the Big Society.  Then a 3 minute film was shown, capturing some of the highlights of Transition Cambridge thus far…
…and then the huge birthday cake was wheeled in and I had the privilege of blowing out the candles and cutting the cake.  And that was that, apart from lots of hanging around and chatting and meeting people with questions there wasn't time for in the Q&A.  Well done to the Transition Cambridge team who put a huge amount of work and effort into making the event a memorable one, and a fitting celebration of their work of the last 3 years.
After a thankfully duck-free night, I set off for the Institute for Environmental Management and Assessment's conference where I was the morning's keynote speaker.  They asked me to challenge the event, something I am always happy to do.  The audience were mostly environmental managers or consultants, working on sustainability and carbon stuff with a wide range of organisations.  My challenge was around how they might weave in the concepts of localisation and resilience into their work, and push the organisations they work with in that direction.  There was time for a few questions, and the first one was on, yes, the Big Society!
The speaker after me was from PepsiCo, their sustainability officer, and he talked about their work trying to make the organisation more sustainable.  They have, apparently, a target of making the company fossil-fuel-free by 2030, as well as massively reducing their water use, waste and so on.  Unfortunately we didn't get time to debate things.  I sat there thinking that whoever in the organisation is tasked with making them fossil-fuel free by 2030 has got their work cut out.
In many ways, they embody the antithesis of resilience, not just in the more obvious water-guzzling, long distribution chains kind of way, but even down to producing the kinds of products which make young people perform less well as school, develop slower, be more prone to anti-social behaviour and also embodying the linear 'take in raw materials and make something that people consume and then throw away' model.  I'm sure when they crack what being fossil-fuel free by 2030 will look like in practice it will be a huge inspiration for many other organisations.
And that was that… off I dashed for the train back down to deepest, darkest Devon.  Having spent the last few months heads down writing 'The Transition Companion' it was great to get out again and do some talks and meet some of the amazing people making Transition a reality on the ground…
Here are Transition Cambridge's photos of the night….