2 May 2011
Competition winner!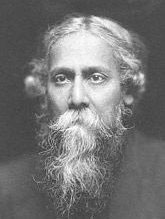 Just to update you… the winner of the Tagore festival tickets is Nathan Burlton (see left), who correctly identified that the following two statements about Rabindranath Tagore are not true.
2. When Tagore was at Dartington with the Elmhirsts in the 1930s, he set a local record for 'welly wanging' (hurling a Wellington boot over long distances) which stood until 1984.  Superstitious locals attributed his success to Eastern mystical powers…
5. Tagore once had a trial with Leyton Orient FC, but wasn't signed up, much to his disappointment.  His sense of rejection was captured in his poem "A Lonely Lament from Between the Posts" (Tagore was a goalkeeper).
Shame really, would have been great if at least one of those had been the case…