16 Sep 2011
The Brixton Pound goes electric!
Here's a very exciting development from Brixton, soon to also roll out in Bristol, which could signal a revolutionary leap-forward in terms of Transition currencies.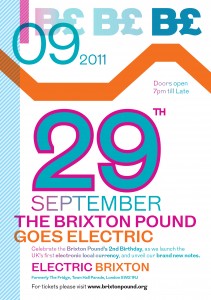 Come and celebrate the launch of the UK's first local electronic currency and unveiling of the new B£ 2nd edition notes at the Brixton Pound's 2nd Birthday:
Thursday 29th September 2011 @ The Electric (formerly The Fridge), Town Hall Parade, Brixton. 7pm – till late.
To register for your free ticket to the B£ 2nd Birthday please go to: http://brixtonpound2ndbirthday.eventbrite.com
At the event there will be:
The Launch of the UK's first electronic local currency, allowing customers to pay by text or on-line for goods in Brixton businesses who accept the B£ e-currency. For more information go to: http://brixtonpound.org/b-e-currency/
The unveiling the new B£ notes (2nd edition) – featuring a new set of Brixton Heroes, including some very famous ex-Brixton residents.
Brixton Pound Market & Business Stalls selling food & drink
Speakers & guests include:
– Chuka Ummuna MP (MP for Streatham & Shadow Minister for Small Business & Enterprise) TBC, Trevor Locke (Comedian & Brixton Resident), Derrick Anderson, Chief Executive of Lambeth Council, Local Brixton Businesses, London Mutual Credit Union
For Press & Media Enquiries please contact:
Rebecca Simpson, Press Manager, Brixton Pound, E: mediabrixtonpound@gmail.com