13 Jan 2012
What it looks like when food grows everywhere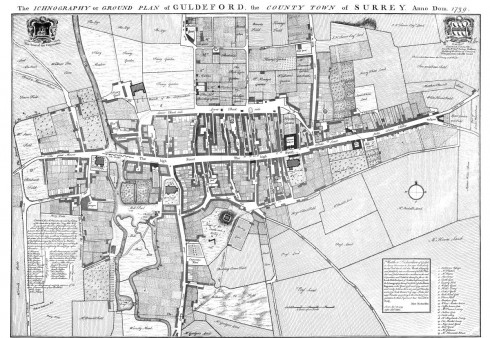 Today I'd like to share a map with you (click on it and it will magically fill your screen), and I'm hugely grateful to Geri Smyth for giving me this.  It is a map of the town of Guildford (or Guldeford as it was then) in 1793.  Regular readers will know I love a good map, and I have spent a fair while poring over this one.  There are a couple of things I love about it.  Firstly, it is the most amazing piece of draughtsmanship.  It is a thing of extraordinary beauty in a way that Googlemaps can only dream of.  The way its laid out, the calligraphy, the attention to detail, are beautiful in a way very few people could recreate today.  But what is so extraordinary, upon closer inspection, is how it captures what it looks like when food grows everywhere. Think of it, if you like, as Incredible Edible Guildford, circa. 1739.  
This is a Guildford before the car, before before shopping malls, before tarmac.  It is also clearly a Guildford with a much lower population than today, with far far lower living standards, and with a lot more mud on the soles of its shoes.  My reason for posting this beautiful artifact isn't to romanticise times that were very different, and in many ways much harder, rather it is to marvel at what a really local food culture looks like in reality for those of us who have no living memory of such a thing.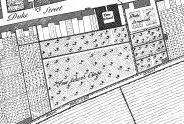 We see, for example, that the hospital has its own vegetable garden.  The Free School has its own orchard.  While many of the houses have their own gardens, others appear to have allotments out the back, large pieces of land divided into plots.  In the centre of the map is a cluster of coaching inns, each of which have yards full of vegetable gardens.  Behind every house, on every piece of ground, food is being grown.  It is an extraordinary snapshot of a time when food production was the principal form of urban land use after roads and buildings.  I won't say more about it, just take some time to let your eye wander over its surface.  You can download a hi resolution pdf of it here (caution, it's a big file).
Makes me think how the maps of the future of our settlements will look.  Peeling back the tarmac as our priorities change, as the economics of globalisation begin to go into reverse, as our cultural perceptions of the usefulness and attractiveness of lawns start to change, and as the need to create meaningful and fulfilling work grows, will transform our urban terrain.  Adding in rooftop growing, vertical growing and other more recent innovations, and we'll see the places we live transformed.
I walked this morning through the frost, and past my local allotments in the early morning sun, sparkling with frost and with a low mist hanging above it, catching the first rays of the morning sun as it emerged.  How much more life-affirming, exhilarating and nurturing such a thing is to experience in everyday life than carparks and lockup garages.  Perhaps it's just me, but a walk of the imagination around the landscape captured in this map is not just a look back into our past, but also, in many ways, a look forward into our future.