24 Mar 2012
10 things I loved about being at 'Change Nation'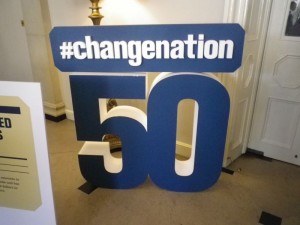 I just got back from a great couple of days in Dublin at Change Nation (you can follow the event live here).  Change Nation was billed as a "social innovation platform" which brought together 50 social innovators from around the world to look at how their approaches might form a response to Ireland's social, environmental and economic challenges (I was number 36).  The degree of support for the event from the highest level was a fascinating taste of how new thinking is starting to permeate Ireland's reponse to its current difficulties.  Ashoka Ireland also know how to throw a great event.
The first day took place at the Guinness Storehouse, a kind of Guinness Museum/Conference centre which is one of Dublin's main tourist attractions as well as a great space for events, and the second day at Dublin Castle.  Here are some of my highlights:
1.  The weather:  three days of beautiful, clear, Spring weather back-to-back is rare enough in Dublin, and the city looked amazing in the sunshine.
2.  The view of Dublin from the Gravity Bar at the top of the Guinness Storehouse: the best view in Dublin, in the round, absolutely stunning (here's a picture of it I took on my phone that's almost so bad it's not worth posting.  Almost).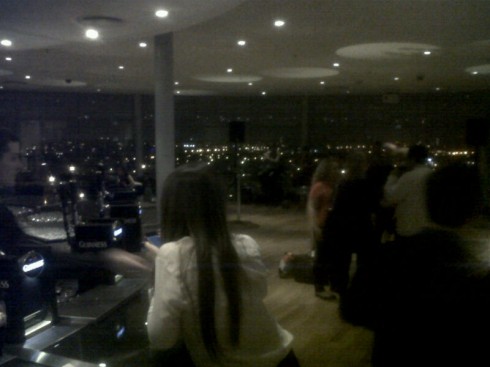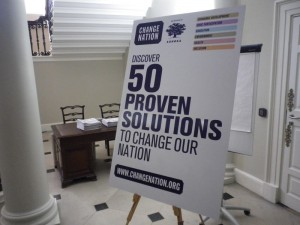 3.  Spending time with some of the 50 amazing social innovators who were there, Lily Lapena, doing great stuff with MyBnk, Brendan Dunford doing brilliant work promoting conservation on the Burren, Ignace Schops who is rethinking our ideas about nature reserves, Mary Nally who is redefining the role of older people in society, Mick Kelly from Grow It Yourself Ireland, Steve Collins with his innovative approaches to treating malnutrition, Geoff Cape who is doing amazing sustainable urban regeneration stuff, Thorkil Sonne who is turning autism into a competitive advantage in business, Bill Thomas, a "nursing home abolitionist".  What an amazing honour to spend some time with them.
4.  Irish Taoiseach Enda Kenny giving the welcoming address at Dublin Castle (see below).  Amazing to see the reach and the support that social enterprise has in Ireland in such a short time.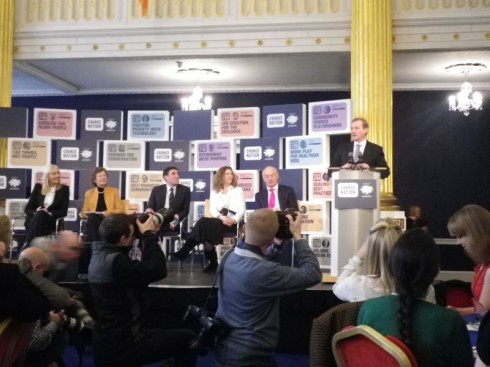 5.  Tim O'Connor telling everyone on the first day "we are broken and broke and that's where we must begin".  Good to have a dose of reality among the positivity.
6. Daniel Ben-Horin using, in a question during a panel discussion, the expression "feeling like the dog that caught the bus".  This led to fantastic discussion, both among the people I was with, and also on Twitter, as to what on earth that meant.  Did it mean the dog had caught the bus tyre in its teeth and was trying to figure out what to do next, that the dog had got on the bus and was trying to figure out what to do next?  Turned out in the end it meant something like "be careful what you wish for".  Very entertaining.
7.  The Conversations on Day 2, where each innovator got 45 minutes each with 5 different people, to discuss their work and how the innovator might be able to help.  It was an amazing selection of people Ashoka managed to get along, some of Ireland's leading innovators and business people.  Hopefully some of what came out of mine will be useful to Irish Transition groups.
8.  Mary Robinson, former Irish President and now running the Mary Robinson Foundation for Climate Justice bringing climate change back to the fore, and the need to stay below 2°C.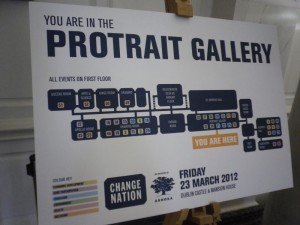 9. The discussions as to whether this sign was a spelling mistake or if a 'Protrait Gallery' (see right) was some expression we'd not heard before that meant a lineup of professionals, or something.  Turned out it was a spelling mistake…
10.  The craic: Ashoka Ireland sure know how to throw a great party… great food, hospitality, drink, music, dancing.  Clearly it was all the result of a huge amount of work, the team were wonderful, and deserve at least a month off when it's all over!
A fantastic couple of days, I was disappointed not to be able to stay for the third day, when it all opened up to the public.  I made some great connections and it was all so beautifully organised.  My thanks especially to Ross Curran who took such great care of me while I was there, and to Paul, Kathryn, Caroline and everyone who made it all possible.