26 Mar 2012
What Transition got up to at the Guardian's Open Weekend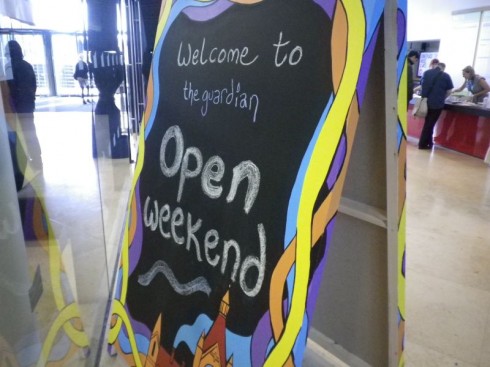 I spent Saturday evening and Sunday at the Guardian's Open Weekend festival at King's Place, the Guardian's headquarters, where Transition Network was involved in a number of events.  The Open Weekend was 2 days of a wide range of events designed to bring the paper's readership into the heart of the organisation to help shape its future in the fast-moving world of social media and publishing. 
On Saturday, before I arrived, author of 'Local Food' Tamzin Pinkerton hosted a workshop called 'How to start a community food business' with Greg Pilley of Stroud Brewery and Dan McTiernan of the Handmade Bakery, which by all reports went down a storm.  That evening there was a screening of 'In Transition 2.0' which was introduced by the head of Environment at the Guardian, Damien Carrington.  The film went down really well, and was followed by a lively questions and answers session, and then by drinks in the bar with assorted London Transitioners, which included seeing Steve Coogan at the bar!
On Sunday I hosted a workshop called 'How to start a community currency', which featured Simon Woolf from the Brixton Pound and Ciaran Mundy from the Bristol Pound.  I gave an overview of Transition currencies thus far, and then Simon talked about the story of the Brixton Pound, and how the limitations of printed notes became clear after a while, as so few people actually use money anymore.  On that note, he handed over to Ciaran to talk about the electronic currency being pioneered by nef, Transition Network and COIN, first tried in Brixton and now being rolled out city-wide in Bristol.
Ciaran gave a great overview of the Bristol Pound and how it is intended to work (to find out more visit their website).  I then got people into small groups for 5 minutes to discuss what they had heard, and we then had a very focused questions and answers session, lots of very practical questions.
After that I went to a session called 'What's going to keep the lights on?' which featured Caroline Lucas MP, the new Secretary of State for Energy and Climate Change Ed Davey and  Dr Michael Pollitt of Cambridge University (see below).  Caroline Lucas started by saying that she didn't agree with the question, that rather it should be "which lights do we need to keep on?"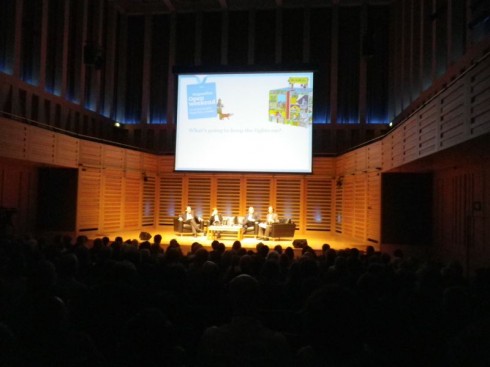 She framed her thoughts in terms of peak oil, climate change and fuel poverty, arguing that what is needed is a massive investment in renewable, a massive investment in energy conservation and behaviour change.  We need to start by working out how much carbon we can emit, and then work backwards from there.
Michael Pollitt said that the best way to ensure that the lights are still on is to allow the market to do what it does and not to interfere.  Markets do work for wholesale energy, he said, it's easy to keep the lights on, just let the markets work.  He argued that things like emissions trading were key to a successfully functioning market which would deliver a low carbon economy.
Ed Davey, the new Secretary of State for Energy and Climate Change (Chris Huhne's replacement) said that his answer to the question was that, in all honesty, he wasn't sure.  He didn't have a crystal ball.  What we need to do, he said, is to create security in energy supply and to meet our carbon targets.  He stated his commitment to energy conservation, with both the Green Deal and the introduction of smart metres.  He ran through a number of things the government is planning to do, the new Energy Bill, big spending on renewables, more investment into research for carbon capture and storage.  A vigorous debate then ensured, driven by questions from the audience.
After this, I took part in a session called 'How I did it', with Juliet Davenport from Good Energy, and hosted by Fiona Harvey from the Guardian.  We both talked about how our ideas had grown and taken off, and took lots of questions and comments from the audience.  It was very enjoyable, and hopefully insightful for those listening.
And then that was that, off on the train home.  The Sunday evening train, you know, the one full of drunk football fans, and which then, due to engineering works means you have to finish the trip home in a coach and arrive home far later than you had thought.  It had been great to be a part of the Weekend though.  It felt great that Transition was represented there, and that we were able to contribute to the practical aspects of it.  Although I managed to only get to one event other than those I was participating in, it was a hugely rich spread of talks and other things, it must have been amazing thing to immerse yourself in as a punter.
My thanks to Carla Dowling and her team for organising everything so beautifully, to Fiona Harvey and Damian Carrington, and to Tamzin, Greg, Dan, Ciaran, Simon and Amber.  
Here is the Guardian's own blog, of Day 1 and Day 2, although it does seem to focus on the bigger events…