26 Sep 2012
Final day in Italy: From Ferrara to Parma, to speak about the 'Sweet Revolution' of Transition
The next day began with a walk around the city of Ferrara.  The core of the city is medieval, and contains some beautiful architecture.  One of the things that is initially most striking about Ferrara is the number of bicycles, and the diversity of the people riding bicycles.  Ferrara is famous for the levels of cycling.  This is aided by the fact that it is a very flat city, but as Pierre told me, also by the fact that cyclists are treated, as he put it, "like sacred cows are in India", that is, drivers expect them to go anywhere, and do anything, at any time, and so afford them to necessary space on the road.  There are no formal cycle lanes so far as I could see, but somehow it all works.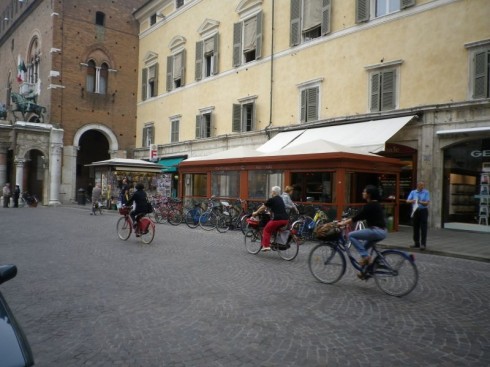 Another thing that was striking was that Pierre said that after the financial crisis in Italy began, the number of bicycles began to increase sharply, and what was happening was that people were pulling old, abandoned, neglected bicycles out of sheds, dusting them off, doing them up, and using them again.  Riding around Ferrara were types and makes of bikes that I hadn't seen for many years.  Have a look at some of these for example: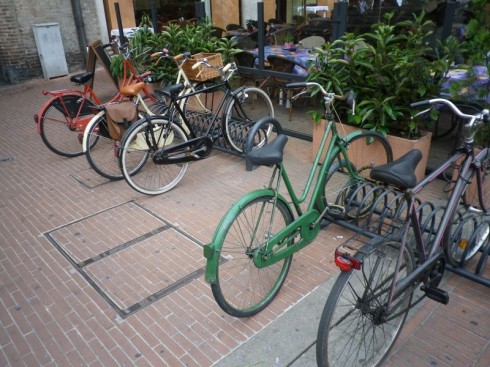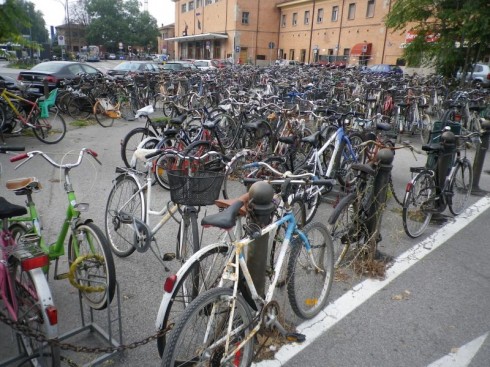 It was great to see young people, very old people, and everyone in between, sailing past on two wheels.  First place we visited was Teatro Comunale di Ferrara,  the theatre where Pierre works, which is a very busy, and active, community theatre in the heart of the city, built around 200 years ago.  Here's the view from the stage, which had been graced the previous night by a musical impresario, as a result of which the stage was still covered in the flowers that had been thrown at him at the end of his performance.  An amazing building.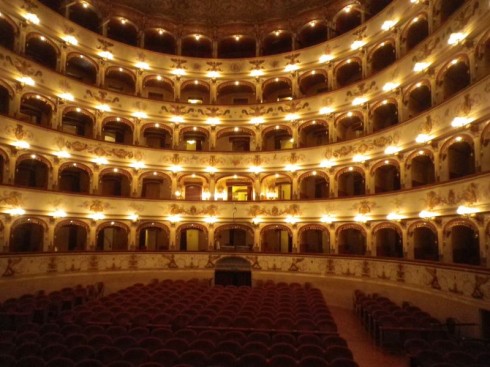 Then we walked past the huge Castello in the middle of the city, and the Cathedral, beautiful.  Here they are: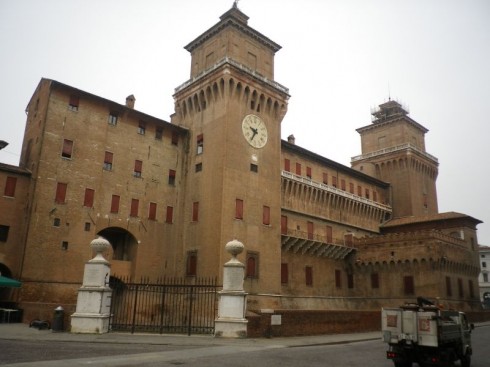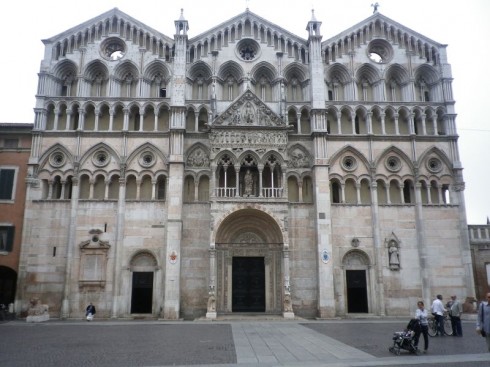 Then off to get the train to Parma.  I was due to speak at an event organised by Kuminda, a network of organisations which promotes food security, social justice and food sustainability.  They are running a month-long festival in October under the title "Il diritto al cibo" ("the right to food"), and I was the kind of warm-up act for that.
We were met at the station by some of the good people of Kuminda (but no brass band) and went for lunch in a small restaurant.  I had one of the dishes that is particular to this region of Italy, Tortelli, which are like square ravioli parcels, some containing spinach and ricotta and some containing pumpkin.  One of the people in the group said "this is the finest dish in the world", and he wasn't far wrong.
We had some time to visit some of the sights of Parma, in particular the Duomo, the biggest cathedral in Parma.  What a stunning place.  It contains frescos painted by students of Giotto and some amazing iconography and wall art.  Here's some…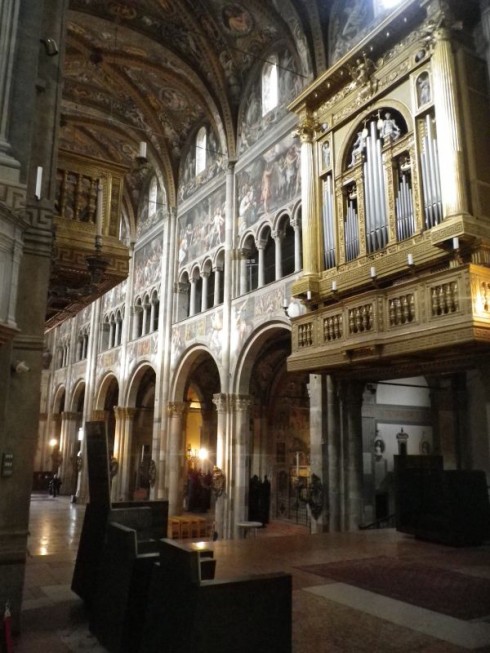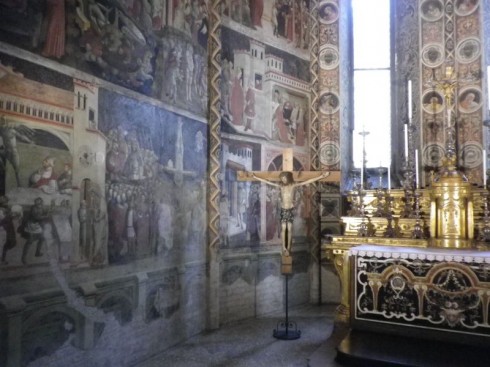 … and most striking of all is the interior of the dome itself, which in stunning perspective, of what I assume is the Ascension, of people making their way to Heaven.  Well worth the neck strain I'd say.  Anyway I took this photo to save you the neck ache.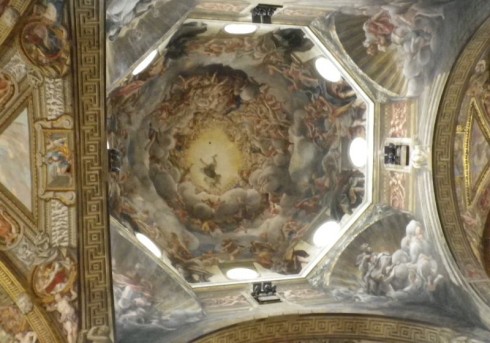 Then off to Biblioteca Antica San Giovanni Evangelista, with its beautiful covered cloisters, a really old well, and upstairs, a huge room with the most amazing ceiling painted hundreds of years ago, frescos with maps of Italy, of Parma and of famous sea battles.  It was really quite extraordinary.  Before the talk I did an interview with a reporter, and then did some photos with a photographer from La Republicca, which you can see here.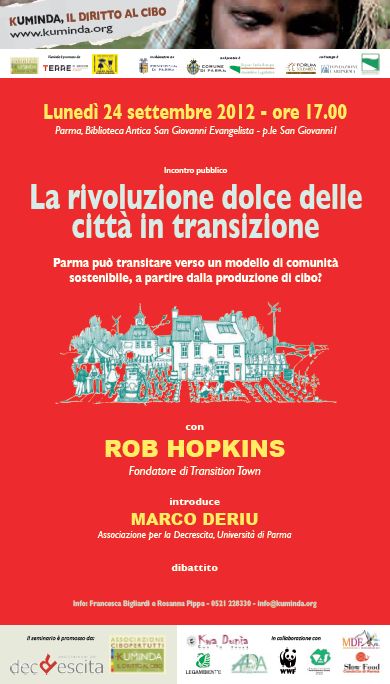 The organisers were amazed with the turnout (it had been in the local paper here).  The room was packed, more people standing than were able to find a seat.  Firstly I gave a talk outlining what Transition is, how it works, and how it might look in the context of Parma:
… and then, after I had asked people to talk to each other in pairs for a few minutes, I spoke specifically about food (the theme of the October series of events), and in particular about the work Transition Town Totnes is doing around food:
There was a great buzz in the room, people were really receptive.  Afterwards I went with the organisers for supper, to a local trattoria, where we ate delicious food, some of it specific to Parma (including the local Lambrusco, very nice) and also the Sicilia, where the chef comes from.
Then it was off the station, off to Milano Centrale, onto the night train to Paris in the top (and therefore the hottest) couchette.  It's been a fantastic few days.  Peoples' hospitality has been amazing.  It is wonderful to visit Transition initiatives and to get a taste of impact Transition has been quietly having in communities around the world.  To meet some of the incredible people who have felt called to pick this idea and to try and make it happens, as well as to hear some of the challenges they are experiencing.  It was great to speak Italian again too.  So I'm home, tired but inspired, touched, a few pounds heavier, but deeply thankful to everyone who made this adventure possible.  Thanks all.  Grazie a tutti.