1 Oct 2012
My contributions to '50 months to save the world'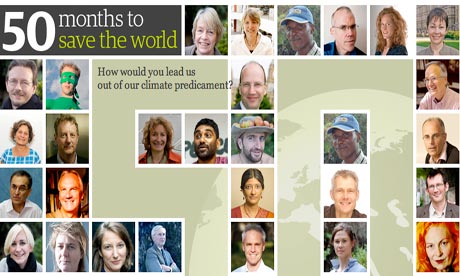 New Economics Foundation's '100 Months' campaign today reaches its midway point.  It was launched in August 2008 based on the understanding that the time that remains to us to avoid the likelihood of runaway climate change is limited, and based on the science at the time, there was closing window of opportunity to do something meaningful about it.  50 people were asked to write, in 50 words,  their response to the question "so what needs to be done in the time we have left?"  Here's mine:
"As well as international/national action, we also need to put strategic economic localisation at the heart of national economic policy, making local food, community-owned energy, genuine local democracy,  a culture of entrepreneurship and local investment for local benefit the foundation of a low-carbon, resilient economy.  And it should be thrilling".
50 words isn't much… so they also asked me to write a longer, 400-word piece for the Guardian today on the theme of 'The Climate Clock is Ticking. Normal isn't Working. What Will You, and Should We, Do Differently?'  Here's what I wrote:
"The question here is "what should we do differently?"  The answer is "pretty much just about everything".  Nationally and  internationally, while the scale and pace of climate change are accelerating, meaningful responses are dwindling.  Part of our collective paralysis comes from the fact that we struggle to imagine a world with less energy, less consumerism, less annual GDP growth.  What will it look like, sound like, feel like?  Does it inevitably mean that you should start seeking out your cave on Dartmoor as we speak, and developing a taste for slugs?  Of course not.
Shortly before the 100 Months campaign began, I was part of initiating an experiment to see what a self-organised response to climate change might look like, one based on rebuilding community, on the belief that what is needed is people, everywhere, making their communities happier, healthier, lower-carbon, and more resilient, in a huge variety of ways.
It's called the Transition movement, and it has emerged as an idea about the future, an optimistic, practical idea.  People are finding that there are people near them who are optimistic and practical too.  It's something they can actually do.  Actually, it's lots of things they can do …
Transition Bath set up an energy company which has raised £¾ m in shares from local people.  Transition Town Totnes' 'Transition
Streets' programme has enabled almost 700 local householders to reduce their carbon emissions while rediscovering a sense of community on their streets.  Bristol soon sees the launch of the 'Bristol Pound', the UK's first citywide Transition complementary currency.  Transition Brixton's 'Brixton Energy' is installing community-owned renewable supported by local people.  Check out www.transitionnetwork.org to get a sense of the amazing flowering of inspired projects underway.
At its core, this is about the belief that our best way forward is for communities to build local resilience in order to be able to better
face the shocks of the present and the uncertainties of the future, from economic crisis to climate change, seeing increased community
resilience as economic development.    It's a process of plugging the leaks in the 'leaky bucket' of our local economies, seeing every leak
as a potential new business, new livelihood, new apprenticeship opportunity.
Of course we need government responses, and international responses, but all of those will struggle without a vibrant bottom-up movement of ordinary people showing what's possible and how thrilled they are by those possibilities.  So although the answer is "pretty much just about everything", I would argue that seeing this as a once-in-a-lifetime opportunity for entrepreneurship, vision and action
is where our successful navigation of the next 50 months lies".
It is well worth having a look at the blog and going through the various answers the other 49 contributors have posted to those questions.