2 Oct 2012
What to do with this year's bumper harvest of snails … snail soup?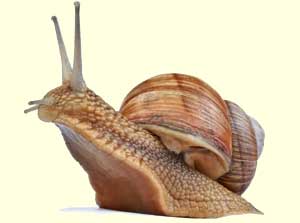 I am indebted, I think, to Massimiliano Rupalti, aka. Rupo, who I met on my recent trip to Italy, who just sent me his grandmother's recipe for making snail soup.  Following my recent post about The Four Slugs of the Apocalypse, it offers a useful way to turn a problem into a solution.  I am assured that this is quite delicious, although personally the final line of the recipe, "keep cooking for at least an hour or till the sauce becomes dense", makes me feel somewhat queasy.  If you try it, do let us know how it was.  Thanks Rupo.
Snails soup 'alla urbaniese' (grandma's recipe)
Once gathered the snails (only big ones) we need to leave them in a closed basket for at least 10 days and not more than 15 days. This is on the purpose to purge the snails, preventing them eat. Wash with clean water every now and then.
Boil the snails for 2-3 minutes and extract them from their shells cutting off the part in the bottom which connects the snails to their shells (because is too bitter)
Put the snails into water with salt and vinegar for 10 minutes and then wash thoroughly
Put the snails in a pot with olive oil and cook them till they get dry enough
Add plenty of herbs, i.e. Wild fennel, (Wild) Marjoram, Wild mint, Parsley, Sage
Add plenty of tomato sauce and keep cooking for at least an hour or till the sauce becomes dense.
Enjoy it!