11 Jan 2013
New research focuses on Haddenham in Transition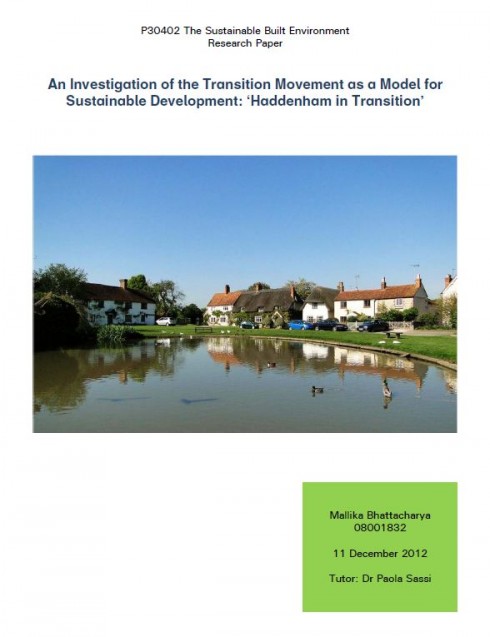 Mallika Bhattacharya, a student at Oxford Brookes University, has recently published a research paper called "An Investigation of the Transition Movement as a Model for Sustainable Development: 'Haddenham in Transition'" (click on the link to download).  Haddenham is a village in Buckinghamshire of about 8,000 residents, about 16 miles from Oxford.  The research looked at the group's work, and the level of awareness of its work across the community.  The study aims to find out how aware and involved Haddenham residents are with Transition activities, what their priorities are for the village and what changes they would like to see, the Transition group's current and planned activities and successes and issues within the initiative.  It's a very useful piece of research with some useful insights for other initiatives.
One of the things that is interesting is that Mallika asks, in her survey of local residents, the priority they give to various aspects of Transition, and then compares that against Haddenham in Transition's priorities.  It shows, for instance, that food, the group's top priority, is less of a priority for respondents, and transport much more so.
Whether a Transition initiative should completely shape its work around such a process is of course a point for wider discussion, but this is the first time I have ever seen this done.  She also suggests that the use of terms such as "resilience", "Transition" and "sustainability" tend to be more off-putting to people than inviting.  Interestingly, the group's project which proved most engaging was 'Homemade in Haddenham', a celebration of local food and crafts, but many people hadn't identified it as a Haddenham in Transition project.
She offers 5 recommendations:
Raise awareness of the importance of local food to resilience;
Engage with the local school with workshops and demonstrations;
Consider community-owned assets for energy generation;
Connect with local businesses such as leasing space for solar panel arrays; and
Explore ways to recruit group members such as offering work experience to young people
Her final conclusion is as follows:
"[Richard] Heinberg describes Transition as a replicable strategy for harnessing local talents, vision and goodwill. Through this investigation, it is evident that this characteristic has both positive and negative aspects. The movement is not prescriptive, so that solutions are appropriate to each community. However, those starting out may struggle to find which measures they can take which would be most beneficial to their  community. Transition has the potential to be successful in most communities. This is reliant on favourable conditions such as residents who are open to ideas around Transition. A motivated core group, comprising of both 'thinkers' to radically reimagine the community, and 'doers' to implement these ideas, will be able to make significant strides towards a low-carbon future".
This is a very useful analysis of the work of one local Transition group, one which may offer useful insights for other initiatives.