15 Dec 2005
The Lessons from Kinsale – Part Three
**Lesson Three – Creating a Vision of an Abundant Future.**
One of essential things in developing community strategies to peak oil is that of facilitating the community to create a vision of how the future could be. We move from working with peak oil, which is about probabilities (how probable is it that it will be horrendous, how probable is peak in 2007 and so on…) to possibilities. The shift is subtle but illuminating. Through the Open Space event we ran in Kinsale, we gave the community (well those who came at least) permission to dream. It was very powerful to see it happening, people going home excited about how the future could be, and feeling they had met some kindred souls with whom they could do it.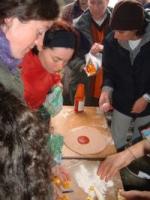 Asking people to visualise a future with one quarter of the fossil fuels available is asking a great deal of them. Especially in Ireland, where the Famine still looms over modern history, and is only 7 generations ago, it becomes people's default picture of life without oil. I feel that as people working in communities trying to engage people in energy descent work, what is vital is that we help people to see that life without oil could be far more satisfying than life at present. This can be done through a variety of methods, permaculture design courses, Open Space events, reading/study groups, community councils, practical workshops, Future Search events, there is a wealth of literature out there on the subject. Tom Atlee's book "Tao of Democracy" gives a good overview of many of these. He has written an article called "Scenario and Visioning Work" which gives an excellent overview of the various ways you can help a community to vision its future, and says what I am trying to say in this post, only far more eloquently. Has also written of his own vision of the future in terms of how communities organise themselves.
The important thing is that people can see where they are going and like what they see. If we present people with a vision of disaster and social collapse, what incentive do they have to do anything? I have come to see that I am in a tiny minority who is able to digest "bad news" and turn it into action. Mot people simply don't respond in that way, and I no longer believe that it is simply because they don't care. As one contributor to **TransitionCulture.org** wrote, " many of the books I have read on peak oil should have a razor blade in a pocket on the back sleeve". This is not to say that we should not aim to raise awareness and talk about the issues, but at same time, simply presenting people with bad news and expecting them to respond by engaging boldly and imaginatively is unrealistic in the extreme. One of the lessons for me from the Kinsale process is that the vision created is becoming infectious, and has reached the Town Council with a power behind it that can't fail but infect.
Tom Atlee writes of creating what he calls an "alternative story field". This is in essence creating new myths and stories that begin to formulate where we want to go. He identifies a couple of novels, such as Callenbach's 'Ecotopia' and Starhawk's "The Fifth Sacred Thing". He also talks of the potential power of bringing together activists, creative writers and journalists, to form 'think tanks' that create new stories for our times. Perhaps in a town when we start doing Energy Descent work, we should also be looking to draw in the novelists, poets, artists, storytellers. It could be the next step for Kinsale, writing the 'great Kinsale novel', set in the near future. Another idea of Atlee's which I have mentioned in previous posts is creating a newspaper from the future, full of stories of how things have turned out. This could be very powerful. FEASTA have done a bit of this in their Energy Scenarios work for Ireland, but I think there is a lot more that could be done. This is best summed up in one of my favourite quotes, from poet Gary Snyder, "it is best to think of this as a revolution, not of guns, but of consciousness, which will be won by seizing the key myths , archetypes, eschatologies and ecstasies so that life won't seem worth living unless one is on the transforming energy's side'.
Atlee recommends the following links for further reading on visioning. Green, Gary, Anna Haines, and Stephen Halebsky. Building Our Future: A Guide to Community Visioning, Organizing Hope Initiative. Guide to Community Visioning Minneapolis: Hubert H. Humphrey Institute of Public Affairs and the University of Minnesota Extension Service, 2001, and
Peterson, Mark. Harnessing the Power of Vision ­ Ten Steps to Creating a Strategic Vision and Action Plan for Your Community. A short version is available on line here. The power of visioning the most powerful lesson I learnt personally from observing the Kinsale process. As I have mentioned previously, Ken Jones, the Buddhist writer has spoken of 'changing the climate, rather than winning the argument'. Visioning is a very important part of this.