8 Feb 2006
Peak Oil Denial Comes in Many Forms…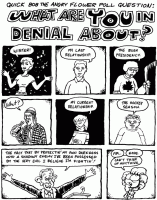 Denial about oil peak takes many forms. One of my favourites was the elderly man I had a conversation with about peak oil, me being under the impression that we were having a mutually understood intelligent two way conversation about the impacts of a diminishing fuel supplies on the UK economy. At the end he said, in all seriousness, "yes, Peak Oil, I used some of that on a table once, it came up lovely".
My friend Graham tells a story of a woman with whom he had been discussing the impacts that peak oil will have on the food supply system. They discussed how oil dependent food is, and how vulnerable the system is. Then, to Graham's amazement she said, "well it doesn't worry me, my husband didn't eat for a year once". Didn't eat for a year? Apparently he had done some kind of retreat or something and she was convinced he hadn't eaten for a year … of course the fact that it is a fairly well established scientific fact at this point that if you take the food away from a population they tend to start keeling over after a few weeks didn't do too much to change her position… .
I once met a man at a party who told me he didn't worry about peak oil because we would all be off to Mars soon, and those left behind would be whizzing around in nuclear powered cars. I didn't press the matter, although on my way home afterwards I did wonder what would happen in the event of a car crash, they'd have to evactuate the whole county.
Of course we all do it. Peak oil is very scary, especially if you immerse yourself in the writings of the Savinars and Kunstlers of this world, and regularly chew the fat with Mike Ruppert. We all tend to have our denial mechanisms, Kunstler is fond of talking about how some people use irony as their shield from all of this.
Some peoples' responses to hearing about peak oil are to turn the telly up a bit or spend a bit more money at the sales, some drink more, some immerse themselves in free energy websites and convince themselves that some guy in Glasgow's invention which sends clothes hangers whizzing around really fast with just a candle to heat it has the answer to running the world's 500 million cars, never mind heating the homes and powering the industry. Some deny the whole thing, and some, such as Peter Huber, in an article called "The Energy Spiral", which has to be read just for its awesome unlikeliness, argues that "the more (energy) we capture and burn, the better we get at capturing still more", in essence, the more we use the more we have. Hmmm.
What triggered this piece was reading an article by a woman called Betsy Hart, who previously wrote a book called *"It Takes a Parent: How the Culture of Pushover Parenting is Hurting Our Kids and What to Do About It"*, which gives some kind of an idea where she is coming from. Betsy occupies a strange Twilight Zone world that exists to the right of George Bush. There isn't much of it, but Betsy fills it with great gusto. Her article, In Praise of Oil, argues that George Bush has somehow 'gone soft' by admitting, about 40 years after the rest of the world twigged it, that the US is 'addicted to oil'. Here is a woman who admits to being so in love with her minivan that she would probably drive to the bathroom if she could. She writes;
>It's all about time for me. Yes, I can walk to Starbucks in 10 to12 minutes, but I can drive there in one minute. The library is about a 45-second drive, and the school 30. I'm not opposed to walking; I'm opposed to wasting time. I know, I know, exercise isn't a "waste of time," blah, blah. But if I'm going to exercise, I want it in a gym with a trainer bearing down on me. I'm not going to waste time just walking.
>I also like a warm house in the winter and, for the record, an air conditioner set to "stun" in the summer, and lots of lights on in my home all the time. Apparently Bush now has a problem with such living.
What is scary is that people like this will be so desperate to cling onto their minivans and air conditioning that they will look for anyone to blame, rather than face the fact that, to coin Richard Heinberg's phrase, The Party's Over. In designing Energy Descent Action Plans, we need to really consider how to winkle these people out of their shells. The worst thing we can do is generate a 'them-and-us' feeling that confirms all their worst suspicions about greenies and all that is associated with them. We have to get as many people on board our lifeboats as possible. We need to be professional, and in the same way that Bernard Lietaer argues that when designing a complementary currency we need to think first how we can design it so that businesses will use it, I feel that when designing energy descent strategies we should begin by thinking how we can make this process as attractive as possible to the people we would normally think were beyond hope. If we can get them on board, everyone else will be easy.
It is also true to observe that none of us are beyond denial. It pops up in all kinds of unexpected guises, and it is a natural reaction, we can't go around thinking about this stuff ALL the time after all! It only becomes a problem when it closes us to the realities of the issue, and inhibits our ability to respond. How we help to ease people from collective denial in order to emerge blinking into the possibility of creating a world so wonderful that they don' t need to hide from it, this is as much our big challenge as learning to live without oil.