2 Mar 2006
Eco-Build '06. Talk No.3. Chiel Boonstra – The Passive House.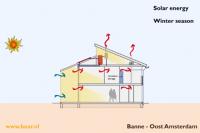 **Chiel Boonstra** is a Senior Consultant DVH Building and Industry Sustainability Consultants and a specialist in the Passive House model. His lecture focused on the Passive House, which is a concept for a house which requires no space heating at all. Clearly there is a lot that can be learnt from this excellent model which will be needed in post-peak housing. However, there is a catch.
Boonstra began by saying that old buildings use 180 Kwh per m2, low energy buildings between 75 and 40, and the Passive House as little as 15. There are now as many as 3,500 Passive Houses in Europe, the concept dating back 15 years. The key to them is that they are incredibly well insulated, and well detailed. The windows are triple glazed, the buildings are airtight, have good ventilation and also heat recovery systems. They also make good use of shading to prevent overheating in the summer.
One of the essential elements is that they rethought the wall system, so that rather than a solid wall with insulation in the middle, the whole cavity is insulation. They use these amazing windows, with triple glazing and U-values as low as 0.8. They have also been using the Passive House model when retrofitting buildings; he showed a tower block in Germany that had cut its energy needs from 200KWh per m2 to 26, using these principles.
The catch I alluded to above is twofold. Firstly, one key flaw with the Passive House is the materials. The Passive House uses a lot of concrete, and also rather unpleasant expanded foam products made from petrochemicals for its insulation. Despite offering a model for houses which can carry people into energy descent without the need for any heating, the degree of embodied energy in the materials was not mentioned once.
What interests me is whether or not it is possible to build a Passive House using materials from within a, say, 15 mile radius? A colleague of mine here in Totnes is doing his MSc dissertation for the Sustainable Construction course he is doing focusing on this concept. If it can be done, then it becomes an essential part of the Energy Descent Action Plan, setting a target when all houses will be built like this and back casting what needs to be put in place in order to achieve that. The Passive House shows that zero energy housing can be achieved, but at the same time throws down the gauntlet to the natural/local building movement to try and match it, to take that as the benchmark to compare our buildings against.
The other thing about the Passive House is that they are almost all, to my eye, pretty ugly buildings. For me, beauty is almost as important as energy efficiency. The Cob Cottage Company talk of 'building homes so beautiful they make grown men cry'. Don Beck, one of the experts on Spiral Dynamics, says that rather than informing people about the environmental crisis and expecting them to act, we should "design the habitat