8 Sep 2006
Transition Town Totnes gets off to a great start!
On Wednesday night in the Civic Hall in Totnes, **The Official Unleashing of Transition Town Totnes** took place. The evening was very successful, and was attended by over 350 people, who packed the hall to hear presentations by Rob Hopkins and Dr. Chris Johnstone. The evening was opened by the Mayor of Totnes, Pruw Boswell, who talked enthusiastically about the initiative and her hopes for its success. If this can happen anywhere, she told the audience, it will be in Totnes.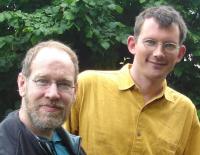 Rob Hopkins then spoke about peak oil, what it is and why it is such an urgent issue. He talked about the concept of energy descent and of relocalisation, and told the story of the Kinsale Energy Descent Action Plan. He set out his vision for how the Totnes process might unfold, and what is included in the programme up until Christmas.
Chris Johnstoe talked about his background as an addictions counsellor, and how insights from the addictions field can inform energy descent work. He talked about the Stages of Change model that has emerged from addictions, which looks at the different stages in people's decisions to change, from precontemplation (where people have no interest in changing their behaviour), through contemplation (where they have decided to make some kind of change in the next 6 months), to preparation (where they have decided to make a change). He talked about how these stages relate to the process of change, both for individuals and for communities. He introduced the tool of Motivational Interviewing, and the power in offering what he called 'inspired listening' to people so that they can voice their concerns and fears as well as their visions and hopes.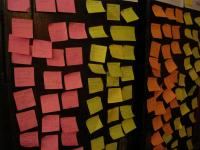 People then divided into pairs to focus for 3 minutes on each of the following questions, "When I hear about climate change and peak oil the concerns I have include…", "my vision for Totnes after peak oil is….", and "the steps I can take towards this vision are". After this, people were invited to write down their thoughts on these questions, each on a different coloured post-it note, which were then stuck up on the wall so people could read them.
People remarked afterwards that they really enjoyed the opportunity to discuss their thoughts, and to chew over what they had heard. The evening closed with huge round of applause, people being very enthusiastic about the process. The next event in the process is a screening of the film **The Power of Community – how Cuba survived Peak Oil** on Monday evening at 8pm in Totnes Methodist Hall.
People were asked via a questionnaire to give their comments on the evening. Some of the feedback included the following;
>Very good introduction to the project – looking forward to being involved with many different people form diverse situations and backgrounds
>Well presented, well structured, truly inspiring. Well done! Would have been nice to have been presented with a vision of a sociey not reliant on oil, that indicated how we might live in a better world.
>A good start – looking forward to getting involved in a practical way.
>Fabulous. Congratulations. Yes yes yes. Sending you support and light regularly.
>Very good, particularly Chris' part – the harmonica! Mentioning adventure stories, Harry and Frodo! Inspirational and encouraging.
>The analogy with established addiction withdrawl, really helped me – the world needs to come out of denial! A much clearer idea of the whole situation. Feeling inspired and excited. No longer feeling so impotent – understanding raising awareness is as important as knowing what to do.
>Very inspiring. I look forward to the unfolding.
>Very heartening to see so many people, such a mix of ages, and an equal number of mal/female (usually more women in my experience!) Clear and entertaining presentation by both Rob and Chris – thank you…
>Excellent, inspiring and exciting. Thank you!
>Excellent. Good to hear the depressing news but great to be inspired, empowered and excited.
>Very inspirational and thought provoking.
>Really great! I loved the positive/fun energy you brought to it (so often after these things one feels useless – but you have given us hope and fun!). Thank you.
>Energising, exciting, inclusive – the salsa interlude was the biz!
>Fantastic! Good start (continuation).
>Excellent. Inspiring. Could you have a roadshow to go aund the rural areas, take the message to old people, single families etc? Not everyone can get to these talks or has a video.
>Brilliant! I'm really excited about this, count me in!
>Hugely impressed and 'relieved' that by having Chris Johnstone as a speaker you have acknowledged from the outset the psychological aspect of this journey. Thank you the salsa interval and bringing in/reminding us that this can be a joyful process! Many thanks. Congratulations.
>Nothing but praise.
>Inspiring, informative, exciting, hopeful, action focused and well structured. Thank you.
>Wonderful connection between addiction psychology and this field – very powerful. There is a whole world out there which is totally disinterested in this – they will be the ones (the majority of UK residents) who need to be engaged somehow – the oil addicts!
>An excellent start and very promising.
>Excellent – like the phrase 'unleashing'!
>Very useful and good turn out.
>Motivational aspect well planned and I believe will be crucial also really affirming! Something needs to be done!
>Very good, inspirational! How do we collectively move on?
>Interesting process and enjoyed the way it was run.
>Very interesting and inspiring evening.
>Excellent evening. A great start to what will be a ground breaking project. Thanks for your vision!
>GREAT start – don't move away Rob, until we have learnt to ride this roller coaster, i.e keep it going on our own!
>Excellent – creative, positive and motivational focus. Very important to be prepared for all eventualities.
>I hope you will start in other towns as well soon. Congratulations!
>Feel very energised and would like to become more involved. Very worthwhile attending.
>A nice light touch, it was fun!
>Inspiring and informative. I liked the combination of speakers and the chance to link with others.
>Excellent presentations. Rob gave a very clear presentation on how critical the level of oil is, which opened the evening very well. Chris was very empowering, so that we didn't leave in gloom and doom.