14 Apr 2008
Transition Network Conference, Day 1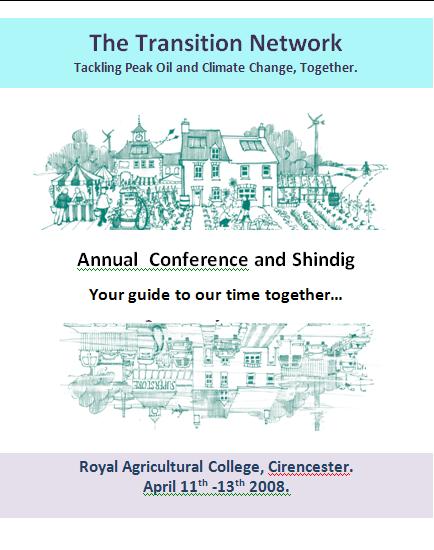 200 people from across the UK, as well as from Australia, the US, Sweden, Japan, Ireland and France gathered together near Cirencester for the second Transition Network conference, an uplifting and inspiring day bringing together of the experience and stories of those catalysing Transition projects in their very diverse cultures and settings.
Set in the glorious surroundings of the Royal Agricultural College, the event was consciously designed to be as little like a traditional conference as possible, with only one formal lecture (the opening address by the Caroline Lucas MEP). Instead, the programme featured a smorgasbord of workshops on topics from local food and the art of communicating the Transition message to avoiding burnout and Transition Universities.
The conference opened with Caroline Lucas MEP opening the conference saying that the Transition movement gives her huge optimism and hope for the future, in that it presents an enticing and compelling argument that life beyond the oil age will be more fulfilling and more enriching. Then I talked about 2 things that had inspired me greatly just before the conference, the first being an email from Sonya Wallace in Australia which read;
Yesterday we made firm links with the State Government minister in charge of Climate Change, Sustainability and Innovation Andrew McNamara. His team (who we met with) are now working on mitigation and action strategies and we floored them yesterday with our presentation on what we've been up to under the EDAP and Transition Network umbrellas and the work we're doing with local council. Fingers crossed, we feel we're really on the verge of something big here and hopefully we can pull it off!!
I also talked about exciting developments in the Forest of Dean, which will be the subject of a post here tomorrow. Ben Brangwyn then gave an update on the growth of the Transition Network (we passed 50 formal Transition initiatives the night before the conference, with the addition of Transition Norwich!). Naresh Giangrande then gave an update on Transition Training and how that has been developing, having now trained over 150 people, and with many more training courses lined up, a training DVD pack in production and a Training the Trainer course happening soon.
People then divided into groups based on their interest in Transition, so they could start to meet other people who share their area of interest. This offered people their first chance to start building contacts and connections. Then the first workshop sessions took place. I managed to sit in on a bit of Daniel Lerch from the Post Carbon Institute's excellent presentation on Post Carbon Cities, and also on Mark Thurstain-Goodwin's excellent presentation on his work using GIS mapping to look at food security, and how it might be a useful tool in Energy Descent Planning.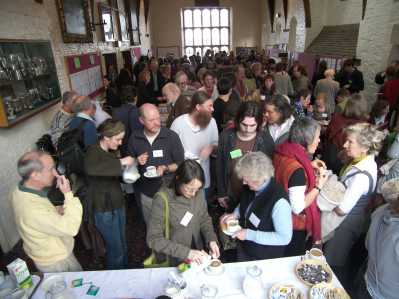 That evening, Transition groups put up display materials about their initiatives, offering a very powerful snapshot into what is happening up and down the country. Later in the evening, we were treated to a nearly complete cut of the forthcoming film The Age of Stupid, an excellent new film about climate change which was very thought provoking and conversation-generating, with the film-makers answering lots of questions at the end (I'll review it here when the final cut is released, but it is looking like an excellent film). A great first day, very energising, and extraordinary to hear how rapidly and deeply this concept is spreading, as well as to be able to put faces to familiar names!
For those of you who were unable to attend, you can download the pdf. of the conference programme here.  If you were there, how was it for you?  Do leave your comments below…