29 Apr 2008
Peak Oil: good in a vinaigrette….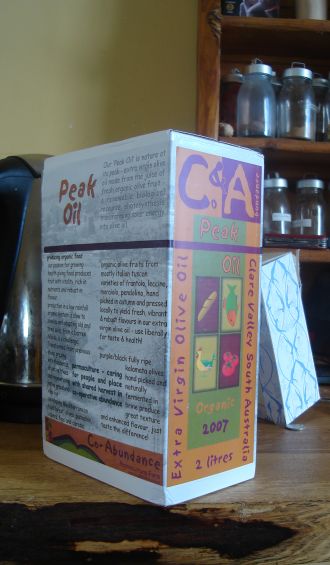 I had the great honour both at the Findhorn conference and at the Transition Network conference to meet Colin Endean, a permaculturist, former dentist and all round good bloke from Down Under. One of the things that Colin does is run, with his partnerAnna Szav, Co-Abundance Permaculture Farm, and as part of their output, they press their own olive oil on the farm, which is marketed under the brand 'Peak Oil'.
The box the oil comes in talks on one side about the farm and about permaculture, and on the other side offers the buyer a crash course in peak oil ("these are the limits to growth, they are real, they are now, and they're coming to some place near you soon"). It is all very attractively designed and accessible.
Describing their farm they write that it;
"has evolved from a bare sheep paddock on the edge of Burra Township. The healing of soils and support of natural systems has been enabled through 15 years of growing biodiversity of native trees and shrubs, nurturing remnant grassland ecologies and removing grazing pressures. Healthy natural systems of soils, grasslands & forests enhance the activities of biological farming. This evolution is guided by the philosophies and principles of permaculture, best described by David Holmgren and as practiced at The Food Forest in South Australia".
They now have olive trees in full production from which the oil is pressed, and their Pistachio, Olive, Carob and Capers are not far off commercial yields. They have also planted Pomegranate, feijoa, apple and more for their own household harvest.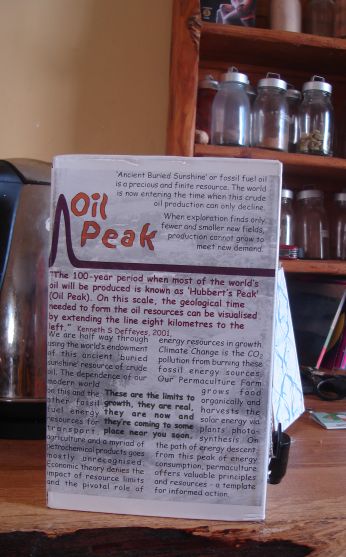 Will we see more Transition-related branding on food products as we enter energy descent? Might the changing nature of our times help to imaginatively brand foods and other products so that they sell the product but also spread the message and contribute to the overall sense of the positive aspects of the challenge? The best one I could think of this early in the morning would be a brand of butter marketed as "The Great Churning". Any other suggestions?
If you want to obtain some 'Peak Oil', you can contact Colin & Anna at co_abundance (at) mac.com or visit their website here.