2 Jul 2008
Having Lunch with the Food For Life Partnership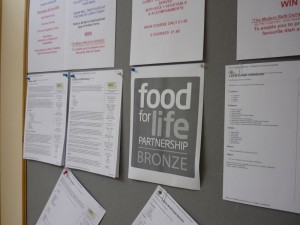 I have the great pleasure of being a Trustee of the Soil Association, and as part of a recent meeting, we visited St. Katherine's School in Pill, just outside Bristol. St. Katherine's is one of the 54 schools which have joined the Soil Association's Food for Life Partnership (FfL). FfL provides a forum for schools and their communities to have a positive experience around food, reconnecting with local and organic food and farming.
Schools work their way up from Bronze through Silver and up to Gold standards, each of which increase the sustainability of the food provided. For example, the Bronze standard requires that 75% of meals are freshly prepared and that any meat is 'farm assured', whereas the Gold standard demands that 30% of food (by value) is organic and 50% is local.
FfL began in April 2007. It is not a process that leads schools, rather it supports them in reaching their goals. This is done through the creation of partnerships which empower the students to ask questions about food and which empower the catering staff. There are now 54 schools involved, which means that over 35,000 students and 3,500 members of staff have been exposed to it, and many more schools are signing up.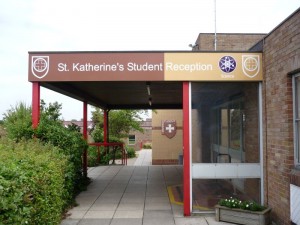 The Headmistress of the school, Stephanie Quayle, talked us through how the Partnership has affected the school. St. Katherines is the smallest state school in the area, with 1000 students, most of whom travel out to the school from Bristol. Part of their process of improving school meals was to bring catering in house, they felt that taking control of the food they serve was a key part of their strategy.
Financially this was a significant risk. The new menu is simple, basic, but everything is of the highest quality. One of the ways they engage the children is to make tasters of the following day's meal choices available while the students are queuing. The students are encouraged to be adventurous. The catering staff are encouraged to not take on too much, but to do what they do well.
Other things the school has done include including 5 'collapsed curriculum' days, where they engage the students in other projects. For the Year 8 students this includes an 'organic picnic', and for Year 7 an overnight stay at Ockham Organic Farm near Torbay. They are also close to being awarded £1.2 million for a new purpose built dining room, kitchen and catering school, teaching students how to cook.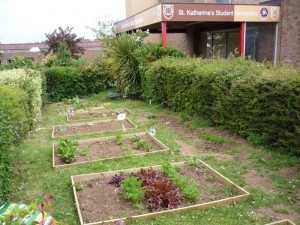 In the school's curriculum work, the science department has refocused much of its teaching onto health, food and exercise. Garden Organic, the organisation which promotes organic horticulture in the UK, has made 10 visits to the school, and a small organic garden in front of the school's main entrance has begun as a result, but more food production is planned.
When asked what difficulties there had been, the Headmistress answered that the FfL initiative had encountered nothing in the way of resistance. One reason for this had been the very tangible benefits that had been observed. Teachers report that children are more alert and better behaved in the afternoons than they used to be, and that there is more of an increased sense of inclusion and involvement.
Rather than just hear about it, we were invited to have lunch with some of the students. I had a rather nice vegetarian curry, followed by chocolate sponge pudding and chocolate custard (something I haven't had since, erm, the Transition Network conference…). Talking to the students over lunch it was clear that while they still lamented the days when chips were served up, they had found the food transition in their school to be a positive process.
When I was at school, my memories of school dinners are of squalid slop. I remember once finding a cigarette end in my lunch, and even once, in a plate of appallingly overboiled cabbage, I found a sink plug, complete with chain. I also remember finding wasps in my pudding on at least two separate occasions. School dinners in the UK went from being like that, traditional food made very badly, overcooked, overboiled, but at least using mostly local food and 'real' vegetables, to fast food, reheated out of a packet, chips-with-everything type stuff. I remember when the food changed in my school from the traditional gloop to chips and burgers, it was quite wonderful.
Now, thanks in part to Jamie Oliver and his turkey twizlers, and to projects such as FfL, things are starting to change. Perhaps we can have good food that people want to eat and which is good for them, for their local economy, and for the planet. Building food resilience will require engagement across sectors, and getting schools involved will be key. As we left St.Katherines, surrounded by a great deal of land currently all put down to lawn, I hoped that working its way up to the Gold standard would be just the start, and that revisiting the school in 5 years, perhaps it would look more like a small farm than a school. From tiny acorns….