3 Jul 2008
The Art of Wishful Thinking or Why The World Cup Finals Won't Get Us Out of This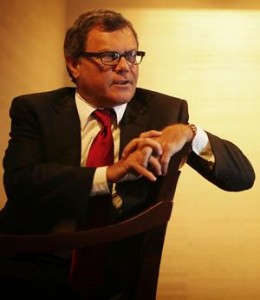 Yesterday morning, while chivvying my kids along to eat their breakfast and clean their teeth (not simultaneously), I had one ear on a piece on Radio 4's Today programme about the economy and recession, prompted by Marks and Spencer's dismal drop in share price, and its CEO talking of "stormy times ahead" for the UK economy. One of the guests was Sir Martin Sorrell (right), a businessman, who attempted to offer an upbeat picture of the future for the UK economy that left me scratching my head.What we are experiencing at the moment, he argued, is not technically a recession, but an economic slowdown. His prognosis for the UK's economy was that 2008 would be OK, thanks to the 2008 Olympics in Beijing, 2009 would be hard, but that we would recover in 2010 due to the World Cup Football and the Winter Olympics in Vancouver. Economies, he smoothly reassured the millions of other toast munching listeners across the UK, are cyclical, they are always moving from one state to another, this is a natural phenomena, underpinned, presumably, by the occurance of major international sporting events.
This same 'temporary downtown' case was again being dished up later in the day by Sir Alan Sugar, who told the BBC that it might be three or four years, rather than two, before consumer markets returned to normal. I was listening to this just days after reading Euan Mearns' excellent piece on The Oil Drum Europe called A State of Emergency. Clearly Mr. Sorrell and Mr Sugar (sound like Victorian confectioners) hadn't, or they wouldn't be insulting our intelligence with such trite reassurances. In his piece, Mearns writes;
"It is time for Alistair Darling and Mervyn King to explain to the British people why they see current problems with energy prices and associated inflation as a transient blip when the UK seems to be in a terminal dive towards insolvency".
The first graph in his article offers an insight into the basis for that terminal dive, the crippling vulnerability of our energy addiction.
This graph, from Mearns' article, shows where we find ourselves in terms of how our energy surplus has plunged into a deficit, how we snatched defeat from the jaws of victory
In a nutshell what happened, as shown in the graph above, was that the UK found oil in the North Sea, and either sold it extremely cheaply to other countries or used it to create Thatcher's 'economic miracle' and gave most of the revenues away as tax breaks. Having sold most of ours off cheap, we how find ourselves with North Sea production plumetting, increasingly dependent on imports, just at a time when, as Chris Skrebowski puts it, we are "in the foothills of peak oil".
Mearns predicts, from data from BERR themselves, that the cost of importing oil and gas to the UK will balloon "to about $200 billion (£100 billion) per annum by 2013″. Zoinks. Of course it is not feasible that we will be able to find that kind of money without bankrupting everything else. The right wing press are currently moaning about the cost of installing renewables and how more renewables will mean higher energy bills all round. Whatever the source, it rather looks like high energy prices are here to stay.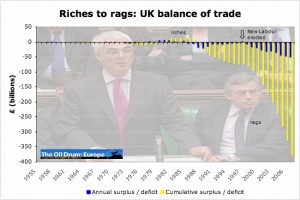 This second graph, again from Mearns' piece, shows how this will affect the UK balance of trade. Looking at this it is impossible to see where Sugar and Sorrell (actually they sound more like a 1970s folk outfit) imagine the way out of this is. What will power the great new economic powerhouse that will pull us out of recession? I'm not an economist, but it looks to me like this recession is kicking in very fast, and as the BBC report this morning, more and more signs are emerging of this.
It will take a lot more than the World Cup Football Finals or the Winter Olympics to get us out of this one. Some straight talking wouldn't go amiss for starters. It is not every day that I find myself agreeing with Chief Economists of international Energy Agencies, but rather than placing our faith for the future on sporting events, we might be better to concentrate on "leaving oil before it leaves us".
We need to stop focusing on big infrastructure projects that are designed to work only in the context of economic growth and cheap energy, and focus instead, as Transition Initiatives across the world are now doing, on resilience, rebuilding local food networks, vastly reducing the need for car use, creating energy systems that are decentralised and community owned, looking afresh at imaginative ways to reuse waste locally rather than as part of far-flung recycling processes, prioritising urban land for intensive market gardens rather than office development and the development of passive house buildings using mostly local materials.
As George Monbiot wrote yesterday;
"In his speech last week, Gordon Brown said he wanted "to facilitate a reduction in short term global oil prices" while seeking "to reduce progressively our dependence on oil". He knows that the first objective makes the second one harder to achieve. The government's policy is to build more of everything – more coal plants, more nuclear power, more oil rigs, more renewables, more roads, more airports – and hope no one spots the contradictions".
We no longer have the time to listen to the la-la land musings of commentators like Sugar and Sorrell, nor to the "well, we'll just do a bit of everything in the hope that something might work" approach of the government. It is time to focus folks. This is, as David Strahan calls it, "the last oil shock". It may well be the last time an economy ever scaled the heights we have. Although the transition away from economic growth won't be easy, it will be made much more difficult if we don't begin with an honest assessment of where we start from. Much as I love the World Cup, I'm not pinning all my hopes onto it.