1 Jul 2008
Finding More Pointless Ways to Use Energy…
Sometimes I pass things so ridiculous I have to go back again for a second look. The other day I was near Paignton, and I passed a zebra crossing and its attendant Belisha beacons (see right). Interesting fact for the day (or quite possibly not), Belisha beacons are named after Leslie Hore-Belisha (1895-1957), the Minister of Transport who introduced them in the 1930s. The idea of Belisha beacons is straightforward, a black and white stripey pole with a yellow flashing globe on top which shows people where to cross the road. The yellow flashing light has long been considered adequate in attracting attention and which in turn insinuates where the stripey pole is to be found (if anyone should be interested). This Belisha beacon near Paignton had come up with an ingenious, energy-wasting way of solving a problem that I never knew existed, lighting the pole up from within!
At a time when green groups are campaigning for companies and businesses to turn off their lights at night, and when some are proposing that at least every other streetlight could be turned off in order to save energy and reduce carbon emissions, some bright spark has come up with the idea of the Belisha beacon not just having a flashing top, but to be entirely illuminated.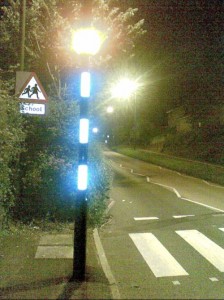 Has anyone ever accidentally walked into the black and white striped posts of a Belisha beacon? Are the corridors of Accident and Emergency wards full of people with bruised foreheads and broken noses who accidentally walked into an invisible post? Unlikely.
I have to confess to being at a loss to explain why anyone, in a Council Highways department anywhere, felt it necessary to redesign something that has always worked perfectly well until now. What next? Perhaps the logical next step is to light up all the white stripes of the zebra crossing so you don't miss them too. In fact maybe they could light up as you step on them, like in the video of Michael Jackson's 'Billie Jean'. Clearly we are surrounded by endless absurd ways of wasting energy, many of which we have become so accustomed to that we don't notice them anymore, but occasionally some rise to the surface, striking in their sheer pointlessness. I will try and investigate and find out the thinking behind this… the people should be told.