30 Jul 2008
'The Art of Retrofitting'; a tour of 3 very different Totnes homes in need of retrofitting
Most of us live in houses built before there was any awareness of energy efficiency, and consequently most of us live in houses that are insufficiently insulated, excessively draughty, poorly oriented and costly to heat. While we may dream of strawbale passive houses, the reality is that most of us will spend the rest of our lives in these houses. As we plunge headlong into a world of soaring energy prices (the average family expected to spend £1000 on gas by the end of the year) we can no longer afford to, in effect, heat the skies above our homes. So what to do? On Saturday 5th July, TTT held an event that visited 3 very different houses in Totnes to look at the challenges particular to them.
The event was led by Rob Scott McLeod, former resident of Totnes, and now works for the Building Research Establishment in Wales, pushing the concept of passivhaus construction. His knowledge about low energy buildings is quite awesome, and he proved the perfect guide for the day. What follows is taken from the notes I made on the day. They are not intended to be comprehensive, but I hope they offer a sense of the challenges and possible solutions for 3 very different buildings.
The first house belonged to James and Lou Brown, an early 1980s compact semi in Follaton. The main challenges here were orientation (not much you can do about that once the house is built!), ventilation (the bathroom is in the middle of the house with no windows to the outside) and lack of insulation. The suspended floor was uninsulated and cold air can move easily up through it.
Some of Rob's tips were to insulate under the floor, and to increase the ventilation from the bathroom so as to reduce condensation in the house. Keeping moisture out can use energy to run a fan, but moist air takes more energy to heat than drier air, so it is worth doing. Another option might be some kind of passive ventilation system, that uses the differentials in pressure between the inside and the outside of the house to ventilate it. When looking at ventilation, it is also vital that one doesn't block up air vents, that is how dry rot starts.
He also suggested putting cork on the floor, as it is a material that 'feels' warm. He said that one of the things is to have lots of things in a room that feel 'snuggy', such as comfy sofas and throws, whatever the room temperature, you'll feel warmer on an old style sofa than a leather one. The rule with insulation, he added, is to put in as much as you can. There does come a point when more insulation stops saving you money, but as a rule, the more the merrier, as long as it doesn't impede good ventilation. It is however the first 100mm that saves you over half the energy.
He talked about solar options for the house, that to buy an off the peg system could cost around £4,000, but one could also go to CAT in Wales and learn how to make one for far less. The house at the moment has a woodstove, and we explored the possibility of adding a back boiler, although for now this was felt not to be the best way to spend money.
The walls have a cavity, so the first step would be to insulate that, although Rob stressed the need to get good advice when doing that, as on some walls it can be damaging. The other option would be to insulate outside the house with a fibre board, which could be clad in timber or rendered. If one could only afford to do one wall, the north wall would be the best place to start.
The second house, Sky Chapman's, was a 1930s council house. Here many of the challenges were the same, but some were specific to the age of the house. With brick houses one has be especially careful about cavity insulation, as in some cases it can lead to lower courses of bricks collapsing… . In such houses it can be better to insulate externally, but only if the degree of overhang on the roof makes that possible. The house has a fireplace, something one needs to be careful about ensuring is wall sealed, as an open chimney can lose 40m3 an hour. A look in the loft revealed a very small amount of insulation, something quick and easy to remedy, ideally to a depth of about 300mm.
Rob discussed grants available, and said that unless one is on benefits or disabled, there are no grants unless one has absolutely no insulation at all. Perhaps it might be best, he suggested, if there is very little insulation, to take it all out, in order to qualify! We should always remember, when insulating roofs, to insulate the hatch as well as the roof.
He stressed the need, when choosing materials, to think through their whole lifespan, and the damage they may cause when they reach landfill. As a preference, we should be seeking to use natural building materials made with biodegradable or recycled materials. Retrofitting, he insisted, is an art, not a science, and is completely dependent on the buildings we are working with.
One of the things Sky's house would benefit from is a change of windows, given that they are large windows with fairly poor double glazing and some single-glazed windows. The preference would be for good double glazing (it doesn't really warrant triple-glazing), with low e-coating glass and FSC timber. External insulation would also be very much worthwhile, although a bigger financial commitment. It could be done with hemp/lime or clay/straw. Finally, good thick curtains not only keep heat in, but psychologically make a room 'feel' warmer.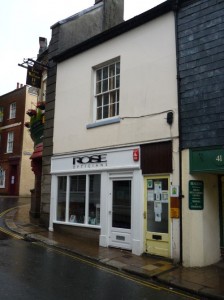 The final building we visited was the TTT office. This made all the others look positively over-insulated. Part of the medieval fabric of Totnes, the office is an old timber frame building, with brick infill, thin walls, no roof insulation. Although not listed, it is hard to be able to change the windows in these old buildings, especially on the side that faces the street. The ideal though would be to replace the rattling sash windows with triple glazed ones. The cheaper, not so good, alternative, would be to make tight-fitting secondary glazing.
The main loss of heat is through the roof. Basically there is only a thin layer of plaster, a few laths and some slate between us and the sky. Insulating the roof is key, but in buildings this old it is good to get an engineer to check the strength of the roof before starting to crawl around up there. In some ways though, being part of a terrace, it is a better situation, as generally one only loses heat from the front and back walls.
The ideal for this building would be to insulate internally, to put wood fibre board on the whole wall, then studs and 60mm Pavetherm, finished with a hemp/lime plaster. Tricky for TTT to do much of this in a building that is rented, but we will explore it with the landlord.