4 Sep 2008
Celebrating the 100th Transition Initiative … Transition Fujino!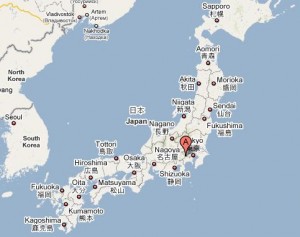 Just days away from the second anniversary of the 'Unleashing' of Transition Town Totnes, the 100th 'official' Transition Initiative, Transition Fujino in Japan achieved its Transition Town status!  Fujino is a town of around 10,000 people, which inhabits the 'edge' between Tokyo and rural Japan.  By all accounts it is a kind of Japanese Totnes/Lewes… a progressive community which was home to the Japanese permaculture movement, and is also home to a Steiner School.  It is also home to the team who are translating the Transition Primer into Japanese!  A fitting place for it to start….The story of Transition Fujino began last year when the eminently lovely Hide Enomoto (who you may remember from my son's blog from the Findhorn conference) attended the Be The Change conference in London and heard a talk I gave.  He later attended the Positive Energy conference at Findhorn with some of his colleagues from Fujino, the Transition Network conference (where he dazzled with his footballing skills) and also did the Transition Training.  The Transition Fujino group consists of Hide, Kazu Kobayashi, Ena Kobayashi and Norio Iketake.  Some of them are also involved in the emergent Transition Japan initiative, who are, among other things, producing the Japanese primer.
Fujino is not the only Transition initiative emerging in Japan.  The nearby communities of Koganei Midor-cho and Hayana are also at earlier stages, supported by the Transition Japan group Hide has initiated.  Keep an eye on Transition Fujino, their website, when they have it up and running, will be here.   Feels like a landmark for all of us really, it is a long way to have come in 2 years.  As well as these 100 'formal' initiatives, there are also now over 900 'Mullers'.  Congratulations also to Transitions York, Katoomba, Louth and Santa Cruz, who came in just before Fujino….