3 Oct 2008
The Totnes Energy Descent Pathways Launch: report, podcasts and poem
We had a wonderful evening in Totnes last week, where we launched the Totnes EDAP process.  About 180 people turned up, and were provided with wine and nibbles, as well as with live guitar music on their arrival.  I felt it was one of those great Transition events that appeals to both sides of the brain, some talking, some chatting, some moving around, some laughter, some poignancy, some food and drink, some fun.  To set the scene, here is how the evening was reported in the Totnes Times, the first time a TTT-related story graced the front page.  Under the headline "Why Time is Running Out", the article ran as follows;
"THE people of Totnes have been urged to go back to basics by town mayor Cllr Pam Barnes as they faced a pivotal moment in the life of the world-changing Transition Town initiative. Cllr Barnes formally launched the organisation's energy descent plan – a way of decreasing the area's dependence on increasingly scarce and expensive oil – in front of an enthusiastic audience of about 150 people. And as everyone was urged to bring their passion and their knowledge to the innovative plan, the mayor said she was very proud Totnes was leading the way with ideas to cut energy consumption.
Cllr Barnes (left), speaking at St John's Church, Bridgetown, said she was constantly dealing with inquiries from around the world, asking about the Transition Town scheme. In a powerful rallying cry, she said: 'We want to make this world better for the future, and stop doing so much damage.' And she added: 'We have evolved, we have moved forward, but we must be aware of the damage we are causing.' She urged people to go back to basics – to share cars and gardens for growing vegetables as had happened in her father's time, to put on another jumper if cold instead of turning up the heating, and to hang thicker curtains to help with the insulation.
She criticised parents who drove their children to school in Totnes, saying there was no need to do so unless the children were disabled. Transition Town founder Rob Hopkins used the occasion to reveal that the 100th Transition community had just been established – in Japan. The launch of the energy descent action pathways project came at a pivotal moment for the supply of oil, he insisted. 'We don't have 20 or 30 years to think about this.' What was happening was really important to the survival of the community and the world, and what had started in Totnes had captured the imagination.
He told the audience the Transition Town movement was creating a plan B, as it looked at the reality of what was coming and embraced it. Project co-ordinator Jacqi Hodgson (right) appealed for ideas, passion and knowledge to be brought to the descent plan – with everybody providing input. While Totnes was the starting point, Dartington and Diptford would also be closely examined as examples of rural communities with other parishes looked at later.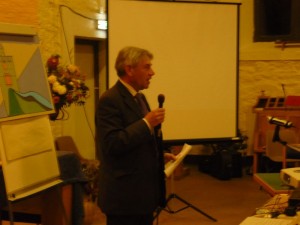 South Hams Council's chief executive David Incoll (left) told the launch he was a weekend cyclist and supported the plan. Coming from local government he knew that the local had been subordinated by government, although now the political parties were talking about putting it back. 'The significance of the project is that you can help local government on its journey,' he declared.
Paul Wesley (right), chairman of the town's chamber of trade, said what the Transition Town movement was providing was a protest which wasn't too demanding, or too gentle. 'What we are saying to those in authority is – join us if you want to, help us if you can, but we are going to do it anyway.' "
After this we did a very good future visioning activity that I will tell you about in a separate post, it was that good, and then people were invited to post their visions for the next 22 years on a very long timeline board, which we will make great use of over the next 8 months or so.  It soon filled up with Post-It notes telling of visions of food growing, community owned wind farms, locally produced hemp socks and vibrant local farms.
Carl Munson from Traydio was there, and he made the first Transition podcast, which captured the thoughts and enthusiasm of some of those who were there, as well as interviewing Jacqi Hodgson and myself at the end of the evening.  There was a great buzz about the event which bodes well for the next few months.  The evening closed with a couple of poems by Totnes poet-in-residence Matt Harvey, who left everyone laughing and entertained.  Here is the poem he wrote, which he introduced as having elements of Wordsworth, bits that need to be sung to the music of 'The Sound of Music' and something else I can't remember. Thanks to Matt for allowing me to reprint it below….
Think Before You Print This Poem
poem made from off-cuts and recycled popular hits, hand-stitched (non-seamlessly) together…
to see a hot tub in a council skip
and heaven in a bald tyre
behold infinity in your local tip
and eternity in some frayed electrical wire…
it seems one man's chimney pot's another man's top hat
one man's bauble is another man's jewel
one man's cheapskate's another man's skip-rat
one man's chip fat's another man's fuel
one man's cheek is another man's chutzpah
one man's puddle is another man's footspa
broken umbrellas, malfunctioning kettles
empty containers of various metals
that never quite did what it said on their tins
these are a few of my favourite things…
and one man's tip is another man's temple
one man's junk is another man's joy
one man's meat is another man's penpal
one man's man is another girl's boy
one man's popgun's another man's uzi
one man's grit is another man's muesli
leftovers, hand-me-downs, chuckaways, off-cuts
used, pre-loved, second-hand, rejects and cast-offs
all the fresh junk that this rampantly unsustainable consumer society brings
these are yet more of my favourite things
when the cold bites, when my skip leaks, when I've lost my zest
I simply dismember my favourite things – and then I don't feel so stressed