23 Oct 2008
Peak Oil and the Snake in the Loft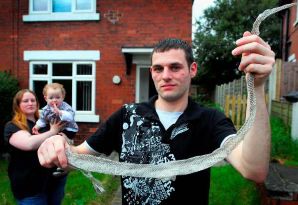 I was struck by a story I read in the Metro newspaper the other day, about a couple in Ashton-under-Lyne who had discovered that a snake was on the loose in their house. Neither of them have actually seen the offending reptile, but they have found two shed skins 1 metre long each in their attic (personally, I think having found the first one the chances of my ever setting foot in the loft again would be virtually zero). The couple have a young son, leading to their being understandably somewhat concerned. But fear not. Experts are on hand to offer reassuring advice, advice sure to calm the nerves of any worried parent with a metre long snake of unknown poisoning potential on the loose in their home. The last sentence of the piece is "experts say the snake will probably stay put 'unless it's hungry'".
I don't know about you, but that wouldn't do a great deal to settle my nerves. Reading the piece reminded me of a discussion I had the other day with someone who argued that the current precipitous fall in oil prices meant that peak oil was now a 'non-issue'. This led to a very interesting conversation. My take is that peak oil, and the gap that began to open between supply and demand was one of the key factors triggering the recession in which we find ourselves. Until July, we had high oil prices and a relatively stable economy, now we have low oil prices and an economy plunging into crippling recession. As James Howard Kunstler put it recently in typically ascerbic fashion;
"Is oil priced at $80 a barrel this morning? That's nice. Except if the company that employs you is about to fold up and you face a holiday season of driving frantically around Atlanta in search of another job, which the odds are against you find finding. Or if you're living on a retirement fund that's just lost 37 percent of its value and it's time to fill the heating oil tank".
Richard Heinberg has argued convincingly that we have now, for all intents and purposes, passed the peak in world oil production.  He writes;
Now that the world's credit markets are suffering the equivalent of a cardiac arrest, one can confidently say that the peak in global oil production is behind us. With demand for oil declining (because of global recession), OPEC will want to constrain production. With investment capital disappearing in a deflationary bonfire, oil companies will have difficulty financing new projects (even if they have full governmental go-ahead to drill, baby, drill). Thus even though the peak might have been delayed for another year or five if the credit crunch hadn't intervened, that time cushion is now effectively gone.
If the world economy thinks things are difficult now, this is nothing compared to when we have an economy in recession and high oil prices simultaneously. That is really the one not to look forward to, especially for a country like the UK that finds itself at the end of lots of long pipelines, with rapidly depleting oil and gas and a terrifying energy balance of payments. So in many ways, although the oil price is currently absurdly low (given that nothing has changed in terms of the fundamentals, other than that demand has been significantly dampened, especially in the East) peak oil as an issue has far from gone away.
It continues to slither around like a vast Basilisk in the world economy's loft (as it were), occasionally leaving evidence of its existence, but becoming, in the space of two months, an issue you have to bravely go seeking, at least as far as the media is concerned. Yet rather than being an issue that has gone away, it threatens at any moment, suddenly and without warning, to bite and to bite hard. However, rather than spend this time when we know that a snake is on the loose preparing for the inevitable, we blithely go on partying, pretending it has left the building. It hasn't, we have no idea if its metaphorical hunger pangs will kick in today, next week or next year, but as sure as eggs is eggs, snakes get hungry.
Anyone looking for reminders about the likelihood of the peak oil snake's growing hunger would have found it in Wednesday's Guardian, which announced plans by Iran, Russia and Qatar, the 3 largest gas producers in the world (who between them control over 60% of world gas), to form an OPEC-style gas cartel. Alexey Miller, the chairman of Russia's Gazprom, was reported as saying;
"we share the opinion that oil price fluctuations don't put in question the fundamental thesis that the era of cheap hydrocarbons has come to an end".
Sounds like a rumbling tummy to me.