27 Oct 2008
The Great Unleashings of Transitions Norwich and Brixton
Although this post comes a bit late, I was waiting for all of its ingredients to fall into place, which they now have, so here it is.  A couple of weeks ago, two big Unleashings took place, which offered inspiring examples to other places planning theirs.  I was booked to speak at both of them, but I was unfortunately unwell with some unknown horrible lurgy which meant Ben Brangwyn ably stepped in at the last minute and went in my place.  Reports soon started filtering back from both events which communicated how each event uniquely embodied the concept of an Unleashing being a dynamic evening which marks the start of an historic process.
The first was the Unleashing of Transition Norwich. The group had been planning the evening for quite a while now, and took the huge plunge of booking the biggest venue in the town.  In the end the turnout was amazing, and the evening was an inspiring immersion in the Transition idea.
Rather than writing at great length about the event, here is a short film made by Transition Norwich which captures the spirit of this historic event. You can also read Green Party candidate Rupert Read's account of the evening here.
The following night saw the launch of Transition Town Brixton.  Brixton is London's first Transition initiative and has been an extraordinary story, as well as acting as an inspiration for many other urban initiatives.  Their Unleashing was a colourful celebration of the Brixton community, one that appealed to all the senses and which proved an inspiring and fitting launchpad for the group's next steps.
It also featured the most wonderful Transition cake ever produced, which featured the names of all the formal Transition Initiatives around the top, "If on Earth there is a Garden of Bliss, it is this, it is this, it is this" written around the edge, and a spectacular Roman Candle in the middle…. (see below)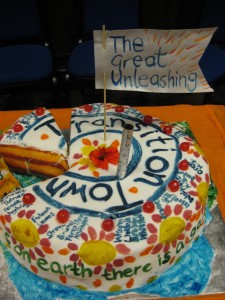 You can read a wonderful detailed and colourful account of the evening by Amelia at Amelia's Magazine here.  You can also, thanks to Jack Kelly, hear audio files of the speakers here and of the feedback session (the reading back of some of the filled out leaves you can see left) at the end of the evening  here.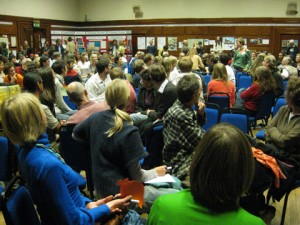 A few bloggers were out for the evening, and you can read one report here and another here. There are more photos, taken by Jody here, and you can see the ideas that were generated by those attending here.
Organising an Unleashing is a big project, takes a lot of planning, and a lot of love and attention.  These two Unleashings were exemplary and offer a lot of ideas and creative tips for those planning such events.  A huge congratulations to everyone involved, I was sorry to miss both events, but it is wonderful to see the amazing energy and dynamism that these events can generate.