10 Dec 2008
9%, the Wizard of Oz and Sex
Last week a friend sent me a stunning, thinking-shifting powerpoint by Kevin Anderson of the Tyndall Centre's Energy Programme entitled Reframing Climate Change: from long-term targets to emission pathways. If you want a sobering and, frankly, deeply depressing, update on the implications of the latest climate science, this is as good a place to start as any. It looks at the scale of the year-on-year emissions that we need to make, and it is quite something. Given that we need to aim to stay below 450ppm in order to have any chance of avoiding runaway climate change (and even that, as the Climate Safety report, issued last week, and the recent testimony from Tim Helwig-Larsen and James Hansen at the House of Commons set out, is almost certainly not enough), what does that actually mean in terms of emissions cuts?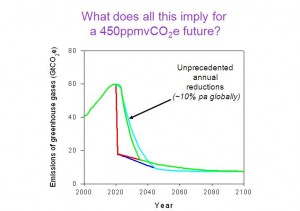 If , Anderson argues, we were to aim for 650ppm with global emissions peaking in 2020, we would need 3% annual cuts starting today. A huge task in itself. If we want to aim for 550ppm with emissions peaking in 2020, we would need 6% annual reductions (which means 9% reductions in emissions from energy generation). If we go for the 450ppm target, which is, realistically, the one that has any chance of preserving a stable climate, we need 9% reductions, every year, for the foreseeable future, starting now. 9%.
9% is just a number though, and as one wades through the climate change literature one is bombared with numbers… but having studied this presentation, 9% is clearly an important one, perhaps as important as Bill McKibben's 350.  What might it actually mean in practice?   Anderson goes on to look at the rare occasions in the past when reductions have actually been achieved by 'developed' nations. Annual reductions of greater than 1% p.a. have, he argues, quoting the Stern Report, only "been associated with economic recession or upheaval". Interesting.
The Dash for Gas in the UK, and the French nuclear power programme apparently led to reductions of 1%. The collapse of the Soviet Union led to reductions of just 5%.  Yet we need to do 9% every year, starting  now, in order to have any chance of avoiding runaway climate change.  That is the vitally important point, so important that I will say it again.  We need to bring about 9% cuts every year, starting  now, in order to have any chance of avoiding runaway climate change.  This might be a good moment to sit down and take a few deep breaths.  I know I had to.
In this context, the decision by the British government to pump billions of pounds into the banking system and to cut interest rates and VAT in order to get us shopping again looks even more foolish than it did the day before I read this presentation. We may well have done our chances of survival more good by using that money to actively undermine and hasten the demise of our economy rather than trying to prop it up! The sensible option would have been to use it to prepare for the post carbon world which is, after all, an inevitability anyway, with profound urgency.
I'm not talking here about the kind of fantasty post-carbon world so beloved of policymakers; the one with millions of hydrogen cars, a globalised economy with huge container ships bringing still largely unnecessary products from better insulated factories in China aided by a huge sail to reduce their fuel consumption and then moved around between superstores here in a more efficient manner. We are talking about profound structural change, a move from the global to the local, from 'sustainability' to resilience, and from haggling in conference centre corridors over wording in climate agreements to putting society on a footing akin to a wartime mobilisation.
Alastair Darling's decision to throw everything at trying to get the economy to spend itself better, seems even more vastly inappropriate than it did before.  If getting overly into debt in order to buy more stuff we didn't need in the first place is one of the things that got us into this mess in the first place, then it surely isn't going to be the thing that gets us out of it again.  Comedian Marcus Brigstock on Radio 4 last week called this the 'Buy Crap For Britain!' campaign, lampooning the idea that it is our patriotic duty to buy more stuff that in 6 weeks will end up landfill anyway. From a 9% perspective, as well as from many others, its madness.
Rather than give money to bail out the car industry in order to enable them to keep making cars, that money should be tied to regearing the industry to producing wind turbines, solar panels and low energy forms of transportation.  If we are to give money to support peoples' livelihoods (no bad thing), then we are in a position to demand changes to how it functions.  Some industries though, are beyond becoming climate-responsible, it is, for example, hard to see a creative way of bailing out Ryanair.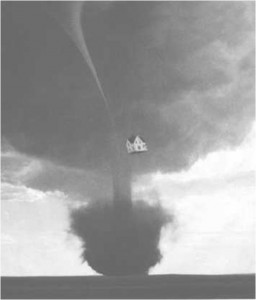 As I have written before, if your horse has died, no amount of dangling carrots in front of its face or kicking it up the backside is going to make a difference.  It is time to move on, grieve for that horse, and start thinking about life post-horse. To use another analogy, this time in relation to the oil price, what has happened with oil prices is somewhat similar to the Wizard of Oz (if you've never seen it it'll be Christmas soon, you can see it then…).
The difference between the last time oil cost $50 a barrel and now is like Dorothy's house being picked up in Kansas in the hurricane, spun around and plonked back down again, in a world that initially looks like Kansas, but is actually completely different.  As in the Wizard of Oz, we can also see a pair of legs sticking out from beneath our house, the Witch of Economic Growth, squashed as flat as a pancake.
Economic growth was, let's face it, an idea with a temporary lifespan to start with, one that would inevitably hit the buffers of resource constraints.  It brought many benefits, but also increased loneliness, social fragmentation, pushed the world to the bring of ecological meltdown and much more besides.  I say let's write it off as a fascinating but ultimately failed economic experiment, and look instead at a new way, one based on the economics of resilience and, ultimately, survival.
We have a once-off opportunity to put in place the infrastructure that we will need in a post-oil, resource constrained, 9%-a-year world.  What might the first steps look like?  George Monbiot has set out some things that could be done tomorrow and wouldn't immediately incense anyone too much.  The Climate Safety report sets out a clear programme of action that can also start tomorrow (you can download the pdf. here).  What Transition initiatives are starting to do around the world is to model the benefits a lower energy world might bring, and to start the process of making unelectable policies electable. They take as their starting point the vision of what the world might be like once it has made the Transition, leaner, more efficient, less stressed, friendlier, more practical and adaptable, more rooted in community.  Monbiot captured this very well in his piece in the Guardian this week;
He (George Marshall) proposes that instead of arguing for sacrifice, environmentalists should show where the rewards might lie: that understanding what the science is saying and planning accordingly is the smart thing to do, which will protect your interests more effectively than flinging abuse at scientists. We should emphasise the old-fashioned virtues of uniting in the face of a crisis, of resourcefulness and community action. Projects like the transition towns network and proposals for a green new deal tell a story which people are more willing to hear.
This is also where the concept of the Green New Deal comes into its own.  It is a concept that can all too easily be hijacked, but at its core, the idea that economies need to be redesigned from the ground up based on resilience and preparedness for a lower energy world, is a key one of our age.
If anyone is still struggling to find a silver lining in the idea of a lower energy, 9%, world which is actually moving towards 9% cuts called in a committed way, then it can, at times, be worth looking towards our more tried and tested human instincts.  A piece on the BBC website last week entitled Britons 'saving money with sex' showed that alongside the long-desired reduction in air travel, car sales and road traffic currently underway, the recession is having some other positive side effects too.
According to the article, a survey by YouGov found that sex was the most popular free activity, something more and more people are looking for, far ahead of window shopping and gossiping. Scotland is apparently the place making best use of this free source of entertainment, with 43% of people choosing sex ahead of tiddlewinks and making things out of pipecleaners, whereas in England the figure is lower at 35% (perhaps because its because the winter days are a bit longer?). The survey did highlight a gender difference though, with women putting gossiping above sex, whereas for the men, it was definitely sex that topped the 'what shall we do now?' chart.
So if we are moving away from consumption, from the 'Buy Crap for Britain' solution to economic contraction, towards a more profound rethink given the need to tackle climate change with unprecedented gusto, perhaps we might do worse than to link it to increased pleasure and intimacy, and to a move away from the loneliness so many people experience.  It may be more successful than pictures of polar bears.  We just need to work out something to make condoms out of other than oil.  Hemp?