20 Dec 2008
One Last Thing… Transition Training Tour: Blog Post 2
A Tale of Two Cities… well three actually….
The first was NYC. We had a quiet night at The Bridge Winery in Brooklyn. Several people turned up, young mostly, and turned on -a good group. We had a small conversation about TTs; they listened and asked good questions and we had a dialogue. Two things struck me.  Firstly the audience was young. That's unusual, and that probably reflects my daughter, who organised the evening. The other was that of the 7-8 million people in NYC only 8 could be bothered to show up.
They were a young and ambitious group and I guess that reflects the values and focus of people who migrate to NYC. They have a bigger investment than most in believing in the current system- which I think is much more in the USA than certainly in Europe. Like one person put it, there are no poor in America, there are the rich and the not yet rich. I wonder what happens when the American Dreams encounters Never Never Land?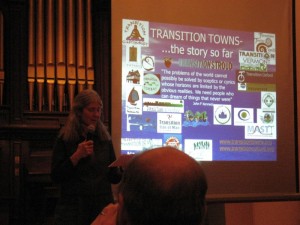 The next city/town really was Montpelier, Vermont. Over 220 turned out on a cold night with snow forecast. Several people on the way in remarked on the number of activists turning up, and what a crowd, and what a buzz. This was a beautiful, well planned and well supported evening. I met up with the Transition Montpelier initiating group at a local organic restaurant for a light supper before the event and we talked and exchanged stories. One gentleman told me of the energy committees in so many of the towns in Vermont. He said that there was an energy committee in ¼ of the towns in Vermont. That's huge!. Their remit was the same as the energy group of TTT, to reduce overall energy use and increase renewables. These groups work closely with Town Councils and other stakeholders. Powerdown seems to be a given, no awareness raising necessary.
The evening was a real boost to the activities of Transition Montpelier who only just got their official status the week before. The real meat of the evening came for me after the local cider and cheese was served downstairs. We arranged 2 circles of chairs and had many people standing. There was a good natured banter, people spoke from their hearts, tears were shed and things that needed to be said were said. My favourite question was someone who asked if we had $100 million given to us what would be do differently.
I answered that it would make a nonsense of the project. We just would not want it. We could create a model transition but it wouldn't serve as a model. It would be a one off and that misses the point. It is so often assumed that money is the issue and it's not. Money plays a part and at a certain point we needed money, but it's not the issue. We want something that works in Bangladesh as well as Bologna, London or Montpelier. Transition is about creating the methodology for making the Transition.  We are in such a lather about getting there, and wherever 'there' is.
I was left off at Boston South Street station by Stan who came up from Boston to be part of this evening. We just talked, not just about the training but about life and you know -stuff. I so appreciate the many great people who I meet training, and how many are such stars, it's a very special privilege of doing the work I'm doing.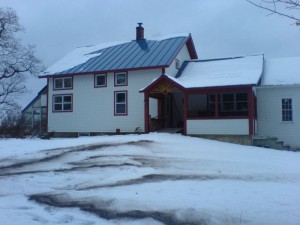 I stayed with Carl and Diana in Montpelier. Carl hosts a regular Powerdown phone in on the local radio station, and I was his guest on Monday mid day, my first radio phone in!. They live about 3 miles out of town in and old farm house they have converted into a very energy efficient and delightful place to live. Carl showed me his latest powerdown gadget- a hand grain mill.  We had some of their apple cider and a nightcap of last year's apple jack. Low energy houses have a special quality, they are so comfortable and have a connection to life that ordinary houses don't have. They are part of the life systems around them, even the flicker of a wood stove, (a wood stove that is an integral part of the house system, not an optional extra), I woke up to a winter wonderland in a spectacular spot, looking out across the green mountains of Vermont.
The Cambridge Massachusetts training was a powerful experience for me.. There were many facilitators with many years experience in doing similar work, which can always be somewhat intimidating.  Pat and Alastair were a trip to work with, very solid facilitators and a joy to be around. We stayed with Rob who organised the training and his delightful wife Aviva and daughter, (Pat called her a munchkin- which is what I called my daughters) Aya. They live in a neighbourhood of wooden houses and small yards, a typical American tableau. It was a great joy and pleasure to eat vege organic food and feel the struggles of their lives- the struggle to make life work in the midst of a deeply dysfunctional society; the struggle around childcare and to eat well and life a low energy lifestyle.
It's a way of life they love and are really on board with, but where it meets the current system it's a struggle. We trained at Livable Streets a non profit that has been given some space by MIT. It was doubly poignant to be doing this work in the epicentre of American technology, in a place that represents the opposite stance to life as most of us in Transition (I am sure this is a vast over simplification!).
This was my first training in the US. They were a technically sophisticated group that Pat and Alastair hadn't encountered before. Referencing the context for transition became an issue, and a future solution came in the form of Tina who will be doing the Training for trainers. She thought she had a group in the US who could provide us with some technical backup. Otherwise the questions that people came up with were broadly similar, inclusivity came strongly into it, with people of colour. Transition seems to translate into the US with ease.
Naresh December 08