5 Jan 2009
Why You Should Never Take Me Christmas Shopping
When viewed with detatchment, there is something profoundly sad about the annual deeply stressful and financially impoverishing orgy of Christmas consumerism, as distinct from the far more enjoyable aspect of it, the time at home, time off work, seeing friends and family and so on. My thinking this means that I must be a dreadful pain in the arse to take Christmas shopping.  What follows is an account of my forays into the world of the Christmas shopper….
I didn't do a great deal of Christmas shopping myself this year.  For my family I bought, as part of my attempt to give as low carbon gifts as I could, a land dedication at Summerhill Organic Farm in Devon, as part of the Soil Association Land Trusts scheme.  Most of the rest my wife did (bless her cotton socks), but Christmas did require me to occasionally dash to the shops, which I did on two very different occasions.  I thought I would share my observations from these immersions into consumer culture.
Friday November 20th 2008, London.
While visiting London and doing some early Christmas shopping, we found ourselves passing Harrods, and realised that we had actually never set foot in the place previously.  Felt like a cultural experience one should have at least once in a lifetime, so we ventured in, intrigued.  Taking me to Harrods is an experience in dragging a curmugeonly git around somewhere which happens to have many hundreds of things for him to grumble about.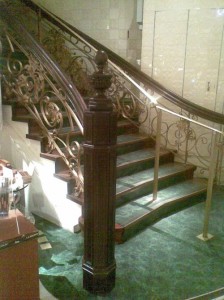 Regular readers will know of my anthropological fascination with designer handbags.  Well, in Harrods I actually saw £4,500 handbags (they were appallingly vile objects), alongside £65,000 fossils (amazing things!) and £10,000 televisions.  I was struck with the parallels between walking around Harrods with its opulence and lavish consumerism, and the Titanic.  Indeed, I even had to take a photo on my phone of the staircase (see left), which looked just like my mental picture of what they looked like on the Titanic itself (see below right).  Felt particularly appropriate somehow, as the economy was just, at that time, starting its downward plummet to the bottom of the economic seabed.

Walking through the food hall and the fish counter, I found myself moaning on about how you would never know that the seas are becoming near deserts through over-fishing such was the smorgasbord of marine biodiversity on display.  Hearing John Lennon's 'War is Over' over the tannoy lead to my ranting on about how actually most of the wars waging in the world are to maintain the flow of oil and other resources that makes most of the crap for sale in Harrods possible in the first place.  So you see, do avoid going Christmas shopping with me if you can avoid it…
At one point, feeling somewhat weary, we thought it might be an idea to go and have a cup of tea (Harrods contains various cafes and teashops).  We went in, sat down and looked at the menu.  How much for a hot chocolate?  £5.50!  Good gracious.  Well in that case I'll just have a peppermint tea.  £3.90!  For a couple of leaves of mint I get out of my garden for free and some hot water?!  Forget it… .  So we left.  I'm not paying anyone £5.50 for a hot chocolate….
December 20th 2008, Exeter.

My main bit of Christmas shopping was a trip to Exeter, my nearest city, a few days before Christmas.  It left me wondering whether in the last days of the Roman Empire, when the Germanic hoards were massing and the silver mines of Spain were running dry leading to the army moving towards mutiny, there were great hoards of people running around Rome going "ooh look, there's 50% off that!", and "hey look, 2 amphoras for the price of one!", oblivious to what lay, metaphorically speaking, around the corner.
There is something about a city full of people Christmas shopping that is profoundly depressing.  It is like a mass affirmative response to the Government's 'Buy Crap for Britain' campaign.  In one of the shopping centres, I started seeing people walking around with what looked a little bit like snow in their hair.  As I came out into an open square, there, in a small area was what at first glance, looked like falling snow, although it was isolated to one particular spot.  On closer examination it turned out to be some kind of frothy bubbles being blown all over the assembled shoppers by a guy on the roof with a blowing machine of some kind.
As the film below, from 1898 shows, the whole 'Christmas=snow' thing really started with the Victorians and the early days of the commercialisation of Christmas, but to have degenerated to a point where feeling 'Christmassy' necessitates some bloke covering you in detergent from a shopping centre rooftop is a bizarre cultural development.  Fact is it is rarely cold enough for snow anymore, due, in part, to the carbon emissions caused by our obsession with consumerism, a collective illess of which Christmas is the most extreme manifestation…
When it all got too much, I took refuge in Waterstones.  Now, I hate Waterstones, mostly for the fact that they are now pretty much the only bookshop you ever see, but it does at least offer a refuge from the shopping maelstrom taking place outside.  I retreat there for a little while when it all gets too much, and although I rarely buy anything, I use it in the same way one might use a library.  The only thing lacking in Waterstones is comfy chairs to sit in and browse the books, but I imagine that if they had them, they would be full of snoozing blokes hiding from the realities of Christmas shopping.
***********************
On Boxing Day (St. Stephen's Day for our Irish readers) I turned on the radio, BBC FiveLive (there was, after all, football on Boxing Day).  There was a report about the Boxing Day sales at the Trafford Centre in Manchester.  Turned out that sales at Debenhams and Selfridges had opened at 5am, and that people had started queuing at 2am to be sure of being first in.
This meant, I realised, that there are thousands of people out there who had shopped prolifically in the run up to Christmas, had just had Christmas day, where people had given them things, they had done the whole Christmas thing, but had spent a significant part of that day planning where their sleeping bag and camping chair was, and how they were going to get to the Trafford Centre.  While the rest of their family were settling down, stuffed and faintly sozzled to watch Wallace and Gromit, they were heading off to get ready for more shopping.
Indeed the next day, most of the traffic bulletins on the radio were about out of town shopping centres, Bluewater, Cribbs Causeway etc.  Oliver James has it right.  Affluenza is a distinct illness, deeply prevalent in our culture, with observable symptoms.  None of us are free from it entirely.  It is just a matter of degree.  Certainly my two forays into the world of Christmas consumerism led me to think that rather than spend the many billions of pounds we have on stuff that will mostly be landfill in 3 months, it may well have been better spent on buying up every available copy of Slade's 'Merry Chrismas Everybody' and shooting them all off into space.  Perhaps that, and somehow buying up all available advertising space in the weeks before Christmas and just leaving it blank, might go some way towards beginning to tackle this dreadful condition.