26 Jan 2009
Transition Training on Tour Blog Post 3. The LA Training
California Dreaming
We are about to leave the States, having done our last training in Los Angeles. It felt like a different thing to SF and the other American trainings. There feels like there is an added degree of difficulty to Transition in LA.  But maybe this is not real maybe the scale of things in the US is hitting me, I don't know. Having been built with the car as an integral part of the system, car and freeways and wide boulevards scream out at me, and seem to have a life of their own.
The LA training was a very heartful affair, I felt really touched. There were so many really committed people doing so much to make a difference. Joanne Poyourow, who organised the training. did an amazing job organising a training the week before Christmas during the middle of the week, something we wouldn't even consider. But she and others were determined to persuade us to fit in the LA group, and that was the only time available. So it happened, with the generous support of Reverend Peter Hood the rector of the Anglican Church in West LA who hosted us in his church hall. He co authored Environmental Change Making – How to Cultivate Lasting Change in Your Local Community with Joanne, which is a manual based on their experience of relocalising their community. It has many of the elements of Transition and lots of other good ideas and ways to make change.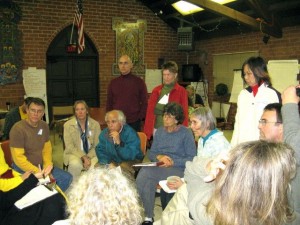 The church has a permaculture garden with herbs and vegetables growing at the front, and nearby is a much larger food growing garden project which we didn't have time to see. Attending the course were members of several Transition Initiating Groups from Tucson Arizona, Palm Springs, Ca, Laguna Beach Ca, and many from LA itself.
Joanne said this after the training :
"It felt like the whole idea of cities was addressed well in open space, and it's something that comes up frequently in cities trainings. It's great to have so many who are putting their weight behind this issue and prepared to tackle it.
I can't finish this post without mentioning Joanne's other book, "Legacy" which is  a novel that takes place in LA over generations. It is a tale of positive change and the creation of a positive permaculture based future. It doesn't include Peak Oil (Joanne said that it was because no one had heard of it four years ago when she was writing so it would make it seem too way out) and it may be a tad optimistic in terms of what parts of the system will keep going. But it's a positive vision and one to get your teeth into, and well worth reading. It stirred me and had me in tears sometimes, and here we have again a positive vision of the Transition written by a woman, a task men have yet to embrace. My favourite quote: "We are the Transition generation not because we will accomplished it, but because we have dared to begin it."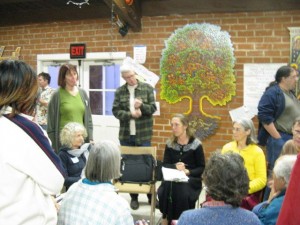 Our last days in the USA were spent having some time to relax before in a place called Borrego Springs –a very beautiful spot in the desert SE of Los Angeles. Like many places here it's a tiny town but sprawls out across the desert – 3 miles from where we stayed to the small shopping mall and few restaurants. So you have to get in a car to do everything. We got a cheap special in the one of the hotels there.  It's a big complex; 3 nine hole golf courses, tennis courts, a swimming pool, and hot tub. It was nearly deserted, I felt like Jack Nicholson in 'The Shinning' going slowly mad in this resort in the off season. Only it wasn't off season. We chatted to a local who was using the hot tub the last night and he said the resort was owned by some rich people who bought up a failed resort 12 years ago, rebuilt it but it is still mostly empty. Looking through Transition eyes it's a dead duck as far as I can see. The resource use is phenomenal;  the grass was as green as can be and regularly watered as we observed one day (in the middle of the day!!) and then there is the golf course with lakes – all in a desert!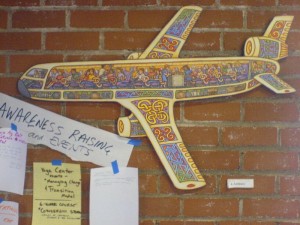 Can this part of the system adapt in a powerdown future? I found it painful. Pain and anger at what I perceived to be a 'fuck you to the planet' attitude in the desert and in southern California in general. Is there a wilful resistance – the American way of life is non negotiable? Just in the size of the cars and the whole way life is organised, and resorts like the one we were staying pointed in that direction. It's prepared to carry on regardless until it can't. There is an alternative, it only has to want to change and to want to embrace change. That's all and then so much is possible. The only thing that can throw a spanner in the works is to take a stance of we are not changing!  And it's painful to feel the disregard and the likely collision to come. I can really understand why James Howard Kunstler writes the way he does, in such shocking and provocative terms; to wake up the slumbering amongst us.
Naresh Giangrande & Sophy Banks