2 Feb 2009
Transition Appears on Inside Out East Midlands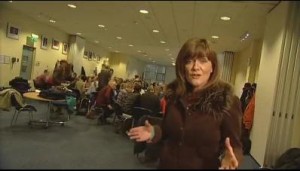 Here is a link to a rather good piece that appeared last week on BBC East Midlands, called 'Energy Transitions', with the subtitle "A look at how the East Midlands' towns and cities are dealing with future energy issues".  It features some film done at the Cities Conference, as well as a look at the work of some of the local groups there.  I particularly love the way she explains peak oil by walking over a bridge, very nice.  Here is how they describe the programme on the Inside Out website;
Transition – energy
The rise and rise of energy prices has been hitting all of us. Even though petrol prices have fallen in recent months, the long term trend is ever upwards. And what happens when our supply of fossil fuels can't meet demand?Everyone's feeling the pinch at home, in the supermarket, and in business. Even local government is struggling to meet its energy bills.
But, one group of people think they have a way forward – a blueprint to tackle the twin challenges of climate change and "peak oil". It's called the Transition Network – and already Nottingham, Leicester and Market Harborough have joined more than 120 towns across the UK to sign up. The transition network is a grassroots movement which aims to take us all back to basics.
Transition at the grass roots
The founder of the transition movement is Rob Hopkins. His idea is that communities across the globe need to gear up for a profound shift in the way they operate because of dwindling supplies of cheap oil and increasing concern about carbon emissions.
The "transition" – as he sees it – will be from high energy lifestyles which are totally reliant on fossil fuels and very vulnerable to supply shocks, to more local, sustainable, low carbon and above all resilient clusters of population. In contrast to those doomsayers who warn of bleak times ahead, "transitioners" are keen to stress their positive vision of the future.
They believe more emphasis on local food, skill sharing, cycling and even community energy schemes could reduce bills and bring communities back to life.
Pros and cons
Critics point out the transition network struggles to reflect diverse communities and its grassroots nature means it tends to be disorganised and rely on well meaning volunteers. But the movement has already won the support of Nottingham City Council and Leicestershire County Council. They see a community based response to climate change as essential if they are to meet their new targets to curb emissions.
Leicestershire County Council have voted unanimously to support their transition towns. And Nottingham City Council became the first city to pass a "peak oil motion" in December 2008 committing councillors to taking a future of expensive oil into account in their planning and policy.