6 Apr 2009
Transition Italia Ask; How Might Transition Initiatives Support the Italian Earthquake?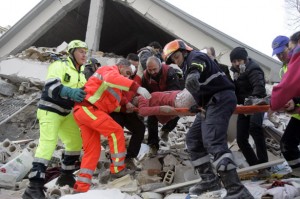 You will no doubt have seen in the news the dreadful scenes from the earthquake in northern Italy, which killed over 150 people, and has left nearly 50,000 homeless.  I recieved the following email from Ellen Bermann at Transition Italia which I said I would post here.
Earthquake in Italy: How can Transition initiatives possibly give support and relief in case of disaster scenarios ?
Today Italy is mourning the victims left by last night's earthquake (6.3 magnitude tremor) which hit the mountainous Abruzzo Region. Countless buildings have been destroyed in the regional capital of l'Aquila and left over 50,000 people homeless. Now l'Aquila is one of Italy's transition initiatives and as Italian Transition hub we feel to be in the urge to lend help, a help that could matter and be significant. We look for advice within the Transition Network in order to be able to answer the following questions:
How can Transition approach help in case of disaster mitigation and grant relief to people, particularly in post-disaster scenarios ?
Is the concept of resilience, understood as "the ability to react to difficulties and to continue to function", appliable in case of disaster scenarios and how ?
What kind of help and actions, delivered by the local transition initiative (L'Aquila) would be most useful in order to help people out ?
We thank everybody in advance for all advice and suggestions given, which will possibly help the local Transition initiative to issue a call for donations in support of the local population.
Thank you very much for your support !
Ellen Bermann (ellen.bermann(at)transizione.org).  Transition Italia