6 Apr 2009
Pre and post-conference trainings for 2009 Transition Network conference announced!
270 places at the 2009 Transition Network conference are already spoken for, so if you are planning to come, do get your booking in soon.  In order to make the trip to London as worthwhile as possible, and in order to make it as rich a learning opportunity as we can, Transition Network will be running a number of trainings before and after the conference which are open to conference attendees, other transitioners and non-transitioners alike.  To book please follow the links below. A number of concessions are available for each course. For these please contact Kristin at 0117 963 8323 or email conference@transitionnetwork.org. 
The Pre-conference trainings
Introduction to Permaculture – Tuesday May 19 & Wednesday May 20.
The course will cover the principles and practice of permaculture, with an emphasis on permaculture as a design system. Participants will be taken step by step through the process of design, and there will be a number of desk-top exercises based on real-life designs. A detailed case study of an actual urban permaculture garden will be shown. In addition there will be information on permaculture methods including how to match the plant to the place for maximum production and the use of mulch. Teaching methods include talks, discussions, slide shows and exercises. Every opportunity will be taken to make use of the landscape surrounding the teaching venue to illustrate and enrich the learning process.

course will be taught by Patrick Whitefield. Patrick is a leading permaculture teacher, writer, designer, and consulting editor for Permaculture Magazine. He is the author of the Earth Care Manual, Permaculture in a Nutshell, and How to Make a Forest Garden.
Course price: Full price – £70, For conference attendees – £60
Maximum number of attendees – 25
To book, click here.
Transition Training – Tuesday May 19 & Wednesday May 20
Training for Transition is a 2-day "fundamentals" course for those wishing to know how to set up, run, and maintain a successful transition initiative. It is packed with imaginative and inspiring ways to delve into both the theory and practice of Transition.
This two day workshop is both a practical and informative introduction to Transition and a powerful personal journey to greater personal resilience. It weaves together practice and theory, information and experiential, our inner Transition with our outer Transition, and personal and community Transition. The feedback from participants indicates that this two day journey holds for many, key insights, understanding, and awarenesses to help them to contribute to the most important journey of our times; the journey to a peaceful and resilient world.
Course price: Full price – £105, For conference attendees – £95
Maximum number of attendees – 25
To book, click here.
Constellations – Thursday May 21
Constellations is an experiential method of exploring the invisible dynamics of challenging situations. The workshop offers an introduction to constellations, and an exploration of examples of the dynamics which support or undermine the development of transition. Come prepared to share and explore your experiences.
The course will be led by Jenny McKewan. Jenny is an experienced trainer who also regularly delivers Transition Training workshops.
Course price: Full price – £42, For conference attendees – £37
Maximum number of attendees – 25
To book, click here.
Community Supported Agriculture (The Soil Association) – Friday morning, May 22

A workshop looking at options for communities working together to ensure their local food supply. CSA builds links between producers and consumers to share the risks and rewards of food production, creating sustainable systems to improve the local community, economy and environment. Find out what's happening around the country, and how your Transition group can get started.
This session will be run by the Soil Association who are working with a number of transition groups to help develop Community Supported Agriculture schemes. Kirstin Glendenning and Jade Bashford are also CSA activists in their own communities in Swillington and Stroud. The workshop has a practical focus. For more information click here.
Course price: Full price – FREE
Although there is no fee for this course, you do need to register in order to book your place.
Maximum number of attendees – 100
To book, click here.
The Post-conference trainings
Economics Crash Course – Monday May 25th
Chris Martenson's crash course is the best analysis we've come across of how the economy, energy and the environment intersect – and as he says:
"Our economy must grow to support a money system that requires growth, but is challenged by an energy system that can't grow, and both of these are linked to a natural world that is rapidly being depleted."
This day training has been developed by Chris to enable people to feel confident exploring for themselves, and leading others, through this crucial intersection. It will be led by Peter Lipman, chair of trustees of Transition Network and the Centre for Sustainable Energy. Peter is also policy director at Sustrans and was part of the group which established Transition Bristol.
Course price: Full price – £38 For conference attendees – £33
Maximum number of attendees -25
To book, click here.
Transition Talk Training – Monday May 25th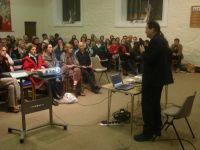 This is a one day course in how to give an effective talk on Transition, aimed for people in a Transition Initiative to help them raise awareness and draw other groups into the process.
It'll cover Peak Oil, Climate Change and the mechanics of Transition, along with the subtler subject of the inner transition we all need to go through if we're going to re-establish an harmonious relationship with the planet.
By the end of the training day, you'll be armed with a solid presentation that you can adopt to your own style, a set of facts and figures to underpin your talk, an understanding of some of the deeper aspects of transition, and a new level of confidence to deliver the presentation with flair, authority and maybe a bit of humour too.
Course price: Full price – £40 For conference attendees – £35
Maximum number of attendees – 25
To book, click here.
Teachers Telling Transition Tales Training – Sunday May 26th, 4.00-6.00 (optional), Monday May 25th 9.00-4.00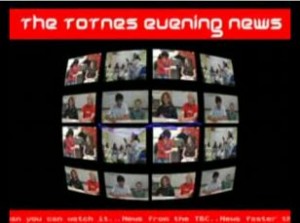 This course provides an introduction to a proposed series of 2 day CPD courses designed by professional storytellers & teacher trainers working with Transition all over the UK.  Teachers can expect to take away a toolkit of instantly usable fantastically interactive community building activities designed to get kids (from 9-90) thinking, creating, and planning a very positive future for us all.
Course price: Full price – £39 For conference attendees – £34
Maximum number of attendees – 25
To book, go to: http://tntraining-teacherstransitiontales.eventbrite.com
...and more?
There are 2 more trainings which we may run. Please e-mail us at conference@transitionnetwork.org if you would be interested in attending either of the following;
Creating outrageously successful projects – 2 day course May 19/20
Anticipated course price: Full price – £100. For conference attendees £90.  Led by John Croft.
For more information about this suggested course click here.
Working with conflict – 1 day course May 25th
Anticipated course price: Full price – £41. For conference attendees £36