8 Apr 2009
What Can Transition Initiatives Learn from Smallholders?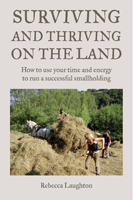 Rebecca Laughton, author of the newly published 'Surviving and Thriving on the Land' (Green Books), has written the following article exclusively for Transition Culture, about what lessons Transition initiatives might learn from the smallholding community.  It draws from the book, which is based on extensive research and interviews with people in a broad range of intentional communities and smallholdings.
Lessons from Low Impact Living on the Land, by Rebecca Laughton.

In order to feed ourselves in a post peak oil future, a much larger proportion of the population will need to live and work on the land. Such a prospect appeals to many, but are we prepared for the work involved in managing land with minimal reliance on fossil fuels?
During the past fifteen years, the low impact development movement has created affordable opportunities for people to live and work on the land. Tinkers Bubble was one of the first projects to obtain permission for a small community to live in self-built homes on 40 acres of land in Somerset. Members of the community manage orchards, grassland, gardens and a forestry plantation without the use of fossil fuel powered machinery, whilst aiming to derive their income from the land's resources.
In addition, residents cook solely with firewood and generate electricity with wind and solar power. During the time I lived at Tinkers Bubble I worked hard at growing and selling organic vegetables, took part in the communal decision-making process, hand-milked our house cows, and sawed all my own firewood by hand. Whist my lifestyle was probably sustainable in terms of natural resource use, I sometimes found myself running low on that other, most valuable of resources – human energy.
The maintenance of personal health and happiness is imperative for the success of any environmental project, and I set out to discover how other smallholders and community members manage to balance their own needs, with ecological sustainability and economic viability. Many of my findings are applicable to the Transition movement, especially those who are endeavouring to adopt a low carbon, land-based lifestyle in an economy where cheap oil still provides challenges to economic competitiveness.
The significance of social structure
The only places I encountered that were avoiding the use of fossil fuels altogether were communities. On the whole, such communities are primarily producing for subsistence, rather than commercially. Thus, there is less need to be economically competitive, although self-sufficiency significantly reduces living costs for community residents.
Also, in communities there are more people, with a diverse range of skills, to do the work. Although domestic vegetable production is possible for a single person using solely hand tools, as soon cereal crops or farm animals that require winter forage are introduced, the need for labour increases dramatically. Never has the proverb, "many hands make light work" seemed more apt than when making hay by hand – mowing with scythes, turning with pitchforks and transporting it by a cart pulled by the horse who will eat some of the hay that winter. Potential drudgery was turned into an idyllic rural party.
Another benefit of community life is the "on-the-spot" practical and emotional support network. Whether you need help with child-care or polytunnel irrigation while you go on holiday, there is always someone you can call on. The challenge of living communally is that decision-making takes longer, sometimes resulting in intractable conflicts. Good communication is vital, yet takes time and energy. Many commercial smallholders prefer to trade in the benefits of community, in order to be more efficient and have greater control over their operation.
I concluded that the ideal set-up would be to have geographically clustered, independent smallholdings, which combine the best of both worlds – sovereignty over your own patch of soil, but with like-minded neighbours only a walk away when you need them.
Order, tidiness and energy efficient design
Another valuable proverb is, "a stitch in time saves nine". Nowhere is this more applicable than in the garden, where early hoeing of seedling weeds can save hours of pulling larger ones later. Likewise, well maintained fencing avoids the frustration of crops being destroyed by escaped animals. Successful smallholdings are notable for their tidiness and order. Tools are stored clean in an organised tool shed, so they can be found when needed, and are maintained so they are sharp and efficient to use.
Forethought given to good design can pay huge dividends in human energy as well as fuel/electricity efficiency. The relative location of different elements of a system can reduce back-breaking work and time-consuming walking between jobs. For example, when building an animal shelter, make use of any natural slope to allow manure to move downhill, and if the garden/field that receives that muck is next door, so much the better.
Time management
Any land-based project will have its "bottleneck periods", when everything seems to need to be done at once. It takes skill to remain calm when the pressure is on. List-making is a good way to prioritise tasks, but try to avoid becoming ruled by the desire to reach the end of the list. It is wise not to have high expectations of what can be achieved in a day, but instead build in elasticity, so that unforeseen events, such as a surprise visit from a friend, or catching escaped animals, can be accommodated. Jobs invariably take longer than anticipated, and it is easy to spread yourself too thin as you get distracted by other seemingly urgent tasks. One smallholder I encountered found it best if she planned to do only one task each day, so if she got another done it was a bonus, rather than trying to do too many things in a day and being disappointed.
Everyone benefits from regular rests to restore their energy and enthusiasm amidst the mental and physical work of land management. Even when in the midst of a highly pressurised period it is vital to take regular breaks for refreshment and the occasional day off. Where several workers are involved, breaking the day into two hour chunks, and gathering everyone together for tea and lunch breaks at the same time each day can be a significant motivating force. The conversation during such breaks can do as much to re-energise people as the food and drink.
A final word
Above all, get to know your limits. Regularly pushing yourself to the point of exhaustion or injuring yourself by working too long will only cause bigger problems later on. If the land/your business/the global environment seems to demand that you go beyond your limits, maybe it is time to consider a different way of doing things. Even Gandhi, the very principled social activist, took a pragmatic approach to compromise, stating that, "The work for which you are setting out should consist in living a sane and lasting, and therefore, a model life, and not in killing yourselves in an out of the ordinary way. Believe me, it is my very love of truth which has taught me the beauty of compromise".
Rebecca's book 'Surviving and Thriving on the Land' is out now, and available from here.