22 Apr 2009
Using Pledgebank Enable Transition Initiatives to Fund Themselves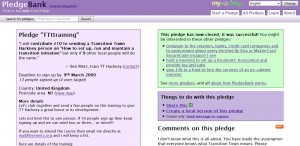 Many Transition initiatives struggle to fund their work, and in their early stages, to fund members of the group undertaking Transition Training.  Ben Metz of Ashoka is involved with Transition Town Hackney in London, and here he writes of an innovative approach he developed for raising funds so that members of the group could do the training.  This approach could be used in many different ways…. "A couple of months ago I received an email, through the Transition Town Hackney email list, inviting me to attend a the two-day Transition Training course being run by Jo Homan, one of the UK's Transition trainers. I was frustrated as not only was the course on days I couldn't attend but it cost £100, which I felt was a little too prohibitive – even for a two-day training course.
I'd recently committed to setting up a £5 standing order to support a friends charity through the website Pledgebank and it struck me that I could set up my own pledge to get a fellow Hackney Transitioner on the training. So – that's exactly what I did.  Pledgebank allowed me to set up www.pledgebank.com/TTttraining.  I pledged to "contribute £10 to sending a Transition Town Hackney person on "How to set up, run and maintain a Transition initiative" but only if 9 other local people will do the same."
And in a matter of days 14 of us had signed up and a local business that hosts the TTH meetings, Arcola Theatre (thanks guys!) had contributed some additional funds.  In all, after being given a small bulk discount, we managed to send four people on the training.  From what I've seen and heard the training has done wonders for the groups progression.  A couple of quotes, from Jon and Robyn – who attended the course, are below.
So – why am I writing this?  Well really it's to encourage people involved in groups who might benefit from this training to think about clubbing together through Pledgebank to get more people trained and more TT groups firing on all cylinders.
Oh yes – I'm also fascinated about how people getting together might be able to raise funds to take forward TT initiatives in more ambitious ways.  If you've had the same kind of thoughts I'd love to hear from you – and together we might be able to find some new and interesting ways to get our money working for a bigger and broader Transition!!!  Drop me a line at mail@benmetz.org" if you think there is something in this and want to have a chat.  Or come find me at the TT conference in May.
A quote from Jon Theo, one of the founders of Transition Hackney, about the training:
"The 2-day training for Transition event was altogether rather impressive. As well as many of the things one would expect: a run-down on peak-oil and climate-change issues and techniques to present them to an audience; directions as to how to brainstorm and plan events and fill up the event calendar; there was also work around the "inner transition". This encourages us to take a holistic view of the transition process and recognise that all of us are to some extent addicted to oil, and we all in fact need to wean ourselves off it. There were some truly amazing and heartwarming visioning exercises that served to firmly anchor a more positive destination in our minds.
"For Transition Town Hackney, this means we returned to our meetings with renewed vigour, a revised agenda for the meetings to engage new newcomers more effectively, and a clear idea of what we want to see take place over the next year. Already events are filling up the calendar, and projects are being planned."
And a quote from Robyn Kimber – who has been instrumental in getting Transition Hackney up and running said:
"The Transition Town training was great, it was wonderful to learn the key principals behind it and how it all started. It was really motivational to meet other people in similar situations and those who were further down the line. I came away inspired and determined to get Transition Town Hackney moving. It has given us more drive and we are picking up momentum now. It will be one of those turning points where we'll look back and think – the pace of things kicked off after we took Transition town training."