24 Apr 2009
A Transition Training Day with Somerset County Council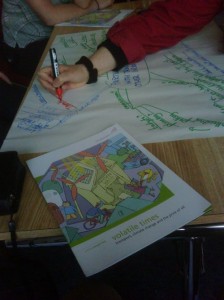 It is a few months now since Somerset County Council (SCC) passed unanimously their resolution to become a Transition Local Authority. You can read more about that, and the resolution itself here. Since then, the Somerset resolution has inspired Leicestershire County Council to do the same, and interest is growing from other authorities. Cllr Philip Booth in Stroud recently wrote a very good summary of all that is happening with local government and Transition across the country. It was therefore a fascinating and potentially far-reaching day on Friday 3rd April when a day was held in Taunton to explore what this might actually mean.
The day, entitled 'Somerset – A Transition Local Authority', was held at Lyngford House near Taunton, and was, in effect, the same workshop run twice, as two half-day workshops. Those attending were mostly senior management from Somerset County Council, as well as a couple of people from local Transition initiatives. The day was facilitated by Sophy Banks and Naresh Giangrande of Transition Training, with me contributing.
Both sessions started with an introduction by Sonia Davidson-Grant of SCC, who welcomed everyone and set out why SCC were thrilled to have become the first Transition local authority, and how they were dedicated to embedding it into their work. Then Sophy, Naresh and myself introduced ourselves. We made it very clear that the purpose of the workshop was not to tell SCC what to do, but to explore together what being a Transition local authority might actually mean.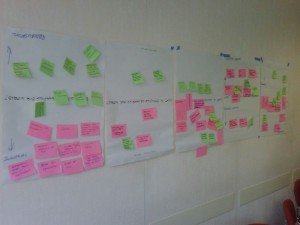 The first activity was called Temperature Taking, and was a look at the assumptions we have about the future. People were invited to set out what they see as the key assumptions driving change in our world. In groups of 5, they were invited to write those they saw as challenges on pink post-its, and those they saw as opportunities on green post-it notes, and then to arrange them on flip chart pads which were divided into 2 columns, the one on the left for those that were associated with / part of the industrial growth system, and the others that associated with a more localised, resilient system.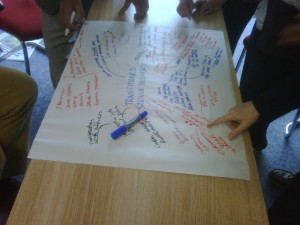 The interesting observations for me from this exercise were that people struggled to come up with positives, and also that most of their negatives were placed in the industrial growth side of the paper. It was useful to observe that many of those people charged with managing key aspects of the Transition actually struggled to imagine the possibility of such a thing, while at the same time, on some level, they were as dissatisfied with many aspects of how things are now as everybody else.
This was followed by my presentation, giving a crash course in peak oil, climate change and Transition. It included some observations on Somerset County Council's current policies, on National Performance Indicators of relevance to this, and some key first steps SCC might take. I suggested that the 7 principles of Transition could be applied equally well to local authorities. Some of the ideas for what SCC could do included;
embark on understanding the consequences of energy descent/increased resilience through training and other mechanisms
engage local communities in its process and decision making
review the Transition principles and adopt/adapt them so that they become core to how it operates
support Transition and other communities through a variety of means – fiscal and other
develop and use resilience indicators to assess its policies
develop and implement an Energy Descent Plan with real bite (i.e. Kirklees' Council's establishment of carbon budgets)
ensure that core services like land use planning and transport go through a rigorous process of re-assessing their current priorities
(My thanks to Peters Lipman and Capener for their help with these)…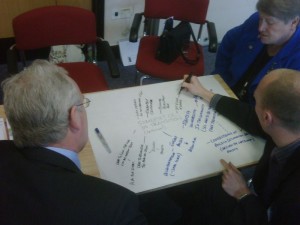 After a break, the next exercise was called Stepping into the Future. This opened with a look at David Holmgren's 4 Energy Scenarios, as set out in his new book "Energy Futures". These are Green Tech (the idea that technology can solve all our energy problems while allowing growth and consumerism to continue unaffected), Business as Usual, Energy Descent and Collapse. The group was divided into 4 tables, one for each scenario. Each table was asked to explore the following issues in relation to their scenario, Resources and Technology, the Electorate, Beliefs, the UK Government and National Performance Indicators. This led to some fascinating exploration of what each scenario might look like in practice, and the practicalities, challenges and opportunities of each.
One of the fascinating things that we observed in this activity was the tension between Green Tech and Energy Descent. While many of those attending felt that business-as-usual was increasingly unattainable and that a new approach was needed, many felt that they were already pushing for Green Tech, but felt that in doing so, they were doing Transition. There was a struggle to really grasp how different the Energy Descent scenario was, and the ways in which it was not Green Tech. This is a tension that I think will deserve deeper exploration in future sessions.
The final session, Local Authority and Transition, got down to practicalities. This session was run as World Cafe, with people moving around every 10 minutes between the 4 tables. For this last session, each table explored one of the following questions;
What would a Transition County Council need in terms of support from Transition Network?
What might a Transition Local Authority's service delivery look like?
What would Somerset County Council's internal processes and workings look like?
What would partnerships between SCC and local Transition groups look like?
This was followed by a closing session with thoughts and feedback.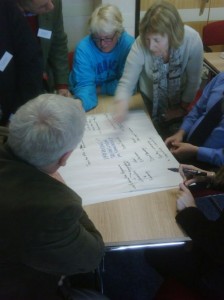 Overall I felt the sessions went very well. There was a level and depth of engagement that I was surprised by, and discussions very quickly began to explore practicalities and real issues. As well as the Green Tech/Energy Descent tension discussed above, there was also the tension between the Council wanting to ensure that Transition groups emerged across the County, but with the awareness that it is not their job to start them, indeed that for them to do so may well be the kiss of death to any future initiatives. Discussions around how a Local Authority might genuinely help to seed Transition initiatives in places where they presently don't exist were fascinating and gave everyone much to think about. These sessions were a pilot for future workshops with local authorities, they identified many areas for new activities or refinements of existing ones, and were, I thought, a fascinating taster of what it might look like when Local Authorities really 'get' Transition.