29 Apr 2009
Transition Forest Row's EDAP Hits the Shelves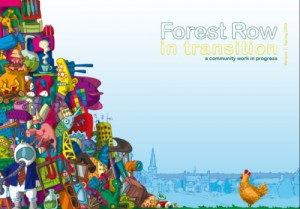 Great excitement greets the news that Transition Forest Row have published their Energy Descent Plan! Transition Forest Row is one of the earliest Transition initiatives to set up in the UK (it held its Unleashing just over a year ago), and a year ago they were awarded a grant from Wealden District Council of £5,000 to create their EDAP.  The result is a fascinating combination of storytelling, cartoons, drawings and practical steps to an oil-free 2030.  You can buy copies here.  The plan initially drew on a lot of information and ideas that emerged from community events and consultation, and then, as the deadline loomed, was taken in hand by an editorial team.  The idea of a narrative emerged as a way of conveying the information, so the main section is based around telling the story of a family called 'The Forresters',  how they made the Transition and how Forest Row changed around them.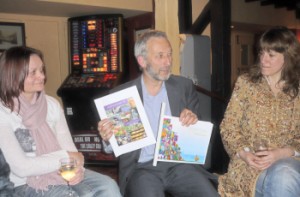 When I spoke to Mike Grenville of Transition Forest Row (see right, Mike holding a copy of the plan at its launch), he told me that the challenge they found was to use language and ideas that would be accessible for people in the village who were already on board with Transition and putting many of the ideas into practice, and also for those who had yet to engage and to whom these would all be very new ideas.
The plan does a great job of presenting the necessary changes as positive steps, while at the same time weaving in a feel of the larger changes going on around people.  Food riots in 2018, for example, are mentioned in passing.
A copy of the plan has been delivered to every house in Forest Row, along with a copy of the excellent Local Food Directory that TFR have just produced.  Reaction so far has been very positive, one child who opened the door and was given a copy saying "wow!", just from a quick thumb through… .  Congratulations to all involved for producing such an inspiring and high quality document in such a tight time frame.  I urge everyone to get a copy.  They will also be available at the 2009 Transition Network conference in London, where Mike will be participating in a workshop about EDAPs.