23 May 2009
My Conference – John Cossham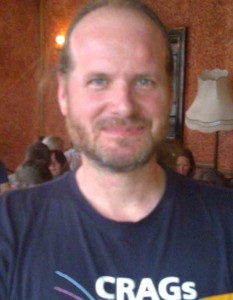 It was very sunny and warm, I was hot with the rucsack, laptop and carrier bag. I decided that as Coldharbour Lane was pointing in the right direction to get me to Clapham Common, that I'd get a bus… and as I'd walked for 90 minutes, I was happy with the £2 bus fare to a stop within 4 minutes walk of the Battersea Arts Centre, a huge and imposing building where the Transition Conference was being held . . . There is a WiFi hotspot (not that hot actually, as connection is erratic and speeds slow. But, it does work! You may be reading this on the day of the conference…)
I had pre booked and pre paid, so there was a badge waiting for me and I had an offer of my bags being put into storage, instead of lugging them around. I put my rucksack in, but kept my hand luggage and laptop with me.
The main conference hall is a lovely place, huge and beautifully lit with ever-changing LED colour spotlights. Apparently the lighting, all low energy, has been installed specially for this event. There was food available and Edward arrived and sat with me and a bunch of people from Cambridge, which is where he is originally from.
At 1.30, after the greetings and intros, there was an interesting 'mapping' exercise… all the tables and chairs were moved to the side, and standing up, we had to organise ourselves into 'elders' down at one end of the hall, and 'youth' at the other. I found myself in the middle, along with other not-old, not young 40-somethings. The roving Mic was used to introduce a couple of oldies, sorry, respect those elders, and some of the younger contingent. Other mapping involved looking at the size of the population of your Transition Initiative, the highest being Hong Kong with 6 million plus, and the smallest being a settlement in North Yorkshire with 400. We did geographical mapping too, which finished with a group of us from the North East and Lincolnshire, Sheffield and Gronningen in the Netherlands all getting together and doing an exercise with a sheet of paper, post-it notes and 'what went well, what is challenging and what are you looking forward to' colour coded.
When I had a look around other regions versions of this workshop, some had been much more creative with paper wind-turbines and annotated spirals and wonderful stuff. Ours was tame by comparison!
After tea and cake it was the first 'Open Space' event, and I had volunteered to do one on, guess what, home composting! I had two lovely conversations. Both very worthwhile.
I had also volunteered to help facilitate the Energy Descent Action Plan thing after tea, so I posted a quick blog, ate some lasagne (again, and not a patch on the one last night!) and just got finished before the EDAP prep meeting.
EDAP is a Transition methodology for 'doing a Transition Initiative' and it has 12 steps, which are:
Set up a steering group ans design its demise from the outset;
Awareness Raising;
Lay the foundations;
Organise a Great Unleashing (aka a launch, or if in Kirkbymoorside, a 'Springboarding';
Develop physical manifestations of the project;
Build bridges with Local Government;
Organise a Great Reskilling;
Honour the Elders;
Let it go where it wants to go;
Create an Energy Descent Plan.
These do not have to follow this order, and some may take place at the same time.
So, this evening's EDAP work was for an imaginary place 'Anytown' and was with 400 or so people and took just two hours!
Some of the things that were contained in this session:
Information from theoildrum.com such as graphs and other information.