23 May 2009
My Conference – John Papworth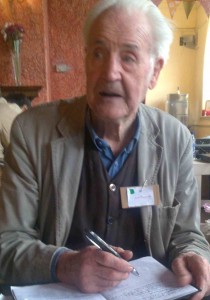 John Papworth writes for Fourth World Review and has been railing against all things big for 40 years. . . . he gave me his reflections in pen and ink. John, your handwriting is only slightly more legible than mine so hope I got this right. He asks us to think about the politics of Transition and understand where real power lies. . . . a contentious start here John!The Transition Network [as opposed to the movement] is in itself in transition. It is in part of the unreality of current politics that in the print and TV media where al focus is on misdoings of MPs while there is scarcely a word about the two decisive political movements now underway:
1. The persistent move to transfer British Sovereignty to a bogus legislature in Brussels
2. The Transition movement is sweeping across nations, and towns all around the world and this  year over 400 people are at the third annual conference. Significantly 60% of those people are women. Significant too is most people attending between the age of 20 and 40 [not so sure about that, CM]
There is a danger that in its very success may lead to its undoing. Already it embraces a wide range of concerns that do not much address the central issue of how power lies in a few boardrooms of organisations that operate on such a giant scale as to be beyond control.
Progress today depends on power being reduced to local scale. The Transition Network with its focus on local curreny, food etc. is the only voice of sanity on the political scene. It holds the promise of a viable future and I hope young people will realise that the power to act lies in their hands.