4 Jun 2009
An Evening at the Observer Ethical Awards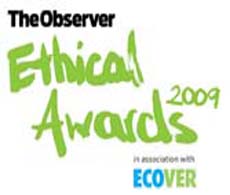 Goodness gracious.  I've just got back from the Observer 2009 Ethical Awards, clutching in my somewhat bewildered hands the award for Grassroots Campaigner of the Year!  Really not something I expected, I thought the other two contenders (John Stewart, HACAN, anti Heathrow third runway campaigner) and Georgina Downs (pesticide action campaigner) had much more chance than me.  Anyway, event itself was in the terribly grand Kensington Roof Gardens in London, (oak trees and flamingoes on top of a hotel… no raised beds though), and was packed with the great, the good and the gorgeous of London… , felt terribly out of place.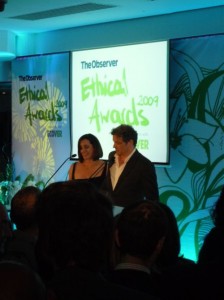 So, Colin Firth and Lucy Siegle presented the awards (see right), and some great people were selected.  The amazing Lower Shaw Farm, who have been permaculturing in Swindon since before I first found out about permaculture, won an award, as did Riverford Organic Farm, Caroline Lucas won the 'Politician of the Year' award, and David Attenborough won a Lifetime Achievement Award. When the grassroots campaigner category came up, the 'the winner is' moment was surprisingly nerve-wracking, especially as I had convinced myself I hadn't won. They then showed a short film about me and I went up to get the award from Mr Firth.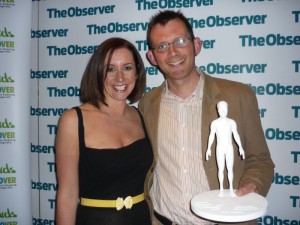 The awards themselves are odd objects. They are called 'Habits', (see left) and the week before the awards, I was rung up and asked 6 questions about my carbon footprint. Turns out I have the smallest of all the award winners (although the questions asked were so general that it is a very inexact science). So, depending on the size of your footprint, your Habit had bigger feet and hands or smaller. Mine is positively svelte and lean, whereas some had very oversized feet, although they did spell my name wrong (Rob Hopkin).

After the last award, I stayed around for photos and chatting (Maddy Harland from Permaculture Magazine was there, and some other familiar faces…), and checked out the flamingos (really), before heading off into the balmy London night somewhat earlier than everyone else, due to not having had any supper and being somewhat faint with hunger by then.
As with last year's Schumacher Award, this is really an award for the Transition movement as a whole, rather than for me, and a national, high profile appreciation of the amazing work you are all doing. It raises the profile of Transition once again, which will hopefully be useful in your work trying to raise funding and engagement with your Transition initiatives.
There will be a supplement in the Observer this week, with a piece about Transition, as well as pieces on all the other winners. In it, it identifies what the judges saw as being distinctive about this years winners; "they were less concerned with the ephemera of green living and instead expressed the growing seriousness of a society faced with major decisions, and the importance of converting good intentions into practical realities". Sounds like Transition to me….

The candidates for the Grassroots Campaigner award were chosen in a vote by Observer readers, and then the winner selected from the top three by the judges. Thanks to everyone who voted, and also to the judges. It is easy to be cynical about awards like this and the mutual backslapping that accompany them, but as a tool for raising profile of initiatives like Transition, they can be wonderfully valuable.