27 Jul 2009
Ed Miliband Muses on his Experience as a 'Keynote Listener' at the Transition Network conference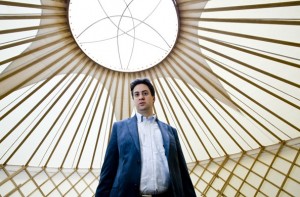 Following UK Secretary of State for Energy and Climate Change Ed Miliband's appearance at the Transition Network conference as a 'Keynote Listener', we invited him to write a few words to sum up this thoughts on the experience.  Unfortunately it came in just a day too late to make the latest, and rather wonderful, Transition Network newsletter, (if you don't get it you can subscribe here), but it is very interesting.  See below;
"Dear Friends
I've never been a "keynote listener" before – it's probably not something that politicians tend to do. So my first experience of it was when I attended the Transition Towns conference and, going table to table to hear what people were discussing, learnt about the movement and what people want me to do in government to help.
I heard how the mission of the Transition Towns movement is not just avoiding disaster but creating a better quality of life and a stronger community. This is an incredibly important message, and if I'm honest, I don't think that those of us who believe in tackling climate change talk about it enough.
The Transition Towns movement shows our message can be about green hope, not green despair: we can help people shift from cars to bicycles and public transport, not by finger-wagging but by making the low-carbon choice the easy choice, such as through improving bike storage at stations. We can make the argument that the transition to renewable power is not just good for climate change but can hold back a rising dependence on gas imports from abroad. We can show that although people's bills will rise slightly in 2020, we can help with insulation and cutting energy waste so that the most vulnerable are protected.
I heard as well that many communities want to know what the UK is doing as a country. They feel they are part of a movement across the country, and they want their government to be leading the way. Two weeks ago, I published our economy-wide roadmap – and inspired by what you do, it is called the "UK Low Carbon Transition Plan".
It shows sector by sector how we will save carbon – some sectors making more savings, some making less where alternatives are harder, but from power to homes to transport, businesses and waste, we now have a detailed plan and know how the total carbon savings will be made. It's the most detailed, comprehensive and ambitious plan yet, and will mean changes in all of our lives.
The hard work is only beginning. Groups like Transition Towns have shifted the centre of gravity in public opinion; but the biggest job of persuasion still lies ahead. Cleaning up our power supply means winning the argument that the greatest threat to the countryside is not the wind farm, but climate change. Cutting energy waste from homes means persuading neighbours and friends that insulation is the smart choice. Getting the breadth of action needed means winning the argument that every town, every company, and every public service now needs a transition plan of its own.
Putting the plan into action, not just in the next year or so but through the decades, can only be done if committed people around the country continue to persuade people of the need for change. Thank you to all the people I met for taking the time to talk to me, and thank you for continuing to be the vanguard of that persuasion.
Yours,
Ed Miliband