11 Sep 2009
Why We Need Formal Agreements for National Transition Hubs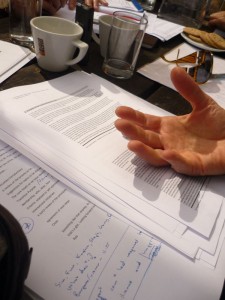 Here is the response to the previous post.  These are offered in the hope that they inspire some kind of a discussion/debate around this.  Please feel free to contribute and share your thoughts.  In case you missed it in yesterday's post, you can read the MoU document that is the subject of all this conversation here.
"Dear Natalie and other Transitioners in New Zealand who gave feedback on the MoU document.
Many thanks for your input into this, and for your honest and constructive feedback – the cheerful disclaimer applies just as much to Transition Network's attempts to support national hubs as it does to the rest of what we're all doing, and we completely accept that we're bound to make lots of mistakes. Before addressing your specific points, I want firstly to address the general sense that comes through that somehow the Memorandum of Understanding (MoU) is written so as to formalise some kind of 'central control' or a top down approach, and which questions the need for such a document to exist at all. Natalie says that she struggled with it and found it tedious and boring to read; I must say at this stage that unlike other Transition Network documents, this MoU was not written as a riveting read, that was not its aim! It is a practical attempt at clarifying how the establishing of a recognised national Transition hub organisation might work in practice.
Natalie asks, perfectly naturally, what the original purpose of the document was, and whether there is actually a need for it. We think that there is, and I'd like to start by setting out where it came from. Early on in the evolution of Transition Network, we were approached by someone who wanted to start a national Transition hub who had been involved in the relocalisation movement and felt that Transition was therefore their natural territory. We came to feel, as our conversations evolved, that they really didn't see Transition in anything like the way we did ; it also became clear that they weren't actually involved in any on-the-ground Transition activity. We felt that it would be counter-productive for them to set up a national Transition hub. We do feel that there is a vital role in ensuring that national networks have the support they need, and that they are the sole, recognised such organisation in the country, and that they actually have emerged from, and represent, the communities and individuals on the ground.
Given that that was our first experience of an approach from someone wanting to form a national Transition hub, it left us somewhat wary. We felt that it was vital that there were some kinds of safeguards in place to ensure that at the early stage, the people who called themselves "Transition Wherever" were actually involved in transition work and understood and supported its guiding principles. In the same way that the criteria for local initiatives are designed to avoid reinventing of wheels and the making of common and avoidable mistakes, we thought that something similar for national hubs would also be useful. We decided that we needed some kind of clear process to support people coming forward to create national hubs.
We also wanted to avoid a situation (which has also happened elsewhere) of a group picking up the idea of "Transition Wherever" and excluding those who are active on the ground, building instead a little powerbase for themselves. We felt it was essential that the initial founding blocks were put in place in the most skilful way possible. In the US, applications for formal Transition status were coming through to us initially, and for other countries too. We felt that it was important that this function was handed over, but that it was done so skilfully, and in such a way that those taking it on felt supported, not burdened.
It might be useful to state what this MoU is not. It is not written in any sense as something that Transition Network imposes. It is written as something that supports the work people are doing on the ground in the country in question, and tries to avoid the National Hub organisation making mistakes that we have made ourselves and/or observed elsewhere (like the criteria for 'official' Transition initiatives). It also tries to ensure, in as much as anyone can, that another group of people don't start up something similar; in effect it ensures that the Hub organisation is seen as having a status of being official. Underpining it is our desire to support people's creativity and passion. If it turns out that it doesn't do that, then we will want people to tell us why it doesn't so we can improve it.
Natalie questions clauses such as the one that suggest that the National hub "involve Transition Network in discussion regarding alterations to its constitution or scope of operations" (4f) and the one that suggests that the two organisations "collaborate on any international funding bids that involve the respective countries" (4n). Both of these are, however, offered as a support role, not something that will be imposed. We are often asked about constitutions and for our advice, and also asked to collaborate on and support international funding possibilities.
Natalie asks, entirely reasonably, exactly what form the support that Transition Network has given to Transition Towns Aotearoa over the years. By my understanding, (and James may well correct me on this), we have given support and input in discussions about constitutions and structure, had a number of conversations with James about different aspects of his work, I have given a few virtual presentations to different events and done Q&A with Transitioners there, I wrote a section for the Au/NZ edition of Transition Handbook and sent a questionnaire around NZ groups as part of that, Naresh and Sophy of Transition Training came and ran the training and gave some talks, and we have produced and made available various materials, including the upcoming film 'In Transition', which includes footage from New Zealand. Clearly we haven't been actively inputting into the various local initiatives, but I would certainly hope that we have played an active (albeit, by necessity, distant, and certainly secondary to the work of James and others) role in the emergence of Transition in New Zealand. At the same time, we have learnt a great deal from your work there, the models and processes you have created.
Natalie refers to the approach set out in the MoU as 'Old World Thinking'. She argues that it has more to do with protecting a 'brand' than building a grassroots network. I think, on the other hand, that actually there is something important about Transition retaining some degree of integrity and meaning as a term as well as some overall coherence as a movement. Whether you choose to call this branding or not is a matter of choice, but for me there is something important here. We have reached the point (in the UK at least) where the Government is taking an interest, big organisations and a range of other groups are starting to seriously engage with Transition. If anyone, anywhere can call their Government practice, their business, their organisation, a 'Transition' business, without that meaning anything, then I think we lose something precious. I don't think of it in terms of a 'brand', rather it is about ensuring that the term has meaning and has integrity, and I think this MoU sets out clearly that we want to be cautious about who uses it to describe national hub organisations.  My feeling is that this is to everyone's benefit who is genuine about using this process to build community resilience.
Transition Network does not make a habit of trotting around the globe telling people what they should and should not doing, and I would be very surprised if anyone who runs a national hub has ever felt like that. To the best of my knowledge (and I stand to be corrected), those running hubs find the Network a useful source of information and support. Peter Lipman, Chair of the Network, sits on the board of Transition US and is an observer to the board of Transition Scotland Support, which they both find very useful. I would welcome some reflections from those running national hubs as to how useful, or otherwise, they have found the support provided by Transition Network. The new Transition Network website will also prove to be a hugely useful tool in enabling networking and exchanging of ideas and experience between local, national and international Transition groups.
We also feel that our role is useful, when it comes to training and consulting and so on, in ensuring some kind of quality control. However, if the fear is that Transition is going to take to a role of being a great 'enforcer', that couldn't be further from the truth. What we're trying to do in the MoU is balance the need for coherence, so that we remain a movement in a meaningful sense, with the absolutely crucial, fundamental need for all of us to be free to participate fully, without hierarchical constraints, in building our movement together. We do realise that reflecting and trying to accommodate that kind of dynamic tension in a document can, perhaps almost inevitably, end up feeling rather clunky and unsatisfactory.
Finally, as to the question of what happens if some places sign it and some don't, I don't know – it is a fascinating question. It is our hope that that doesn't happen, as it confuses things and, I would feel, is not necessary, given what I have outlined above. It is a question for debate though, and one I close this response by throwing open for discussion.
With very best regards and thanks,
Rob