5 Nov 2009
Sweden in Transition
(Naresh Giangrande recently returned from a Transition Training tour of Sweden, here is a short report about his trip).
I spent a intensely satisfying afternoon with the students of a Folks school in Gotenberg exploring how to tell positive stories of the future especially around climate change. We explored topics like how to tell stories that changed peoples heart and mind, how to tell stories about systems, resilience, and my favourite 'how do you tell stories about the future'. They invited me to join them because the course tutor had heard of my visit and she thought that having someone from a positive movement about climate action would stimulate and inspire students. It certainly inspired me to work with switched on and passionate teenagers!
The Folk School system –incredibly- is part of and paid for by the state (as are many of the 'alternative school like Steiner schools).  There are 160 pre-university Folk schools, Folkhögskola, in Sweden formed over 150 years ago; some are run by the church and other by labour unions and other by environmental organisations with an extraordinary level of choice of what and how is studied. Coming from the UK where just about every area of education is codified and predetermined, sans serendipity it felt bewildering!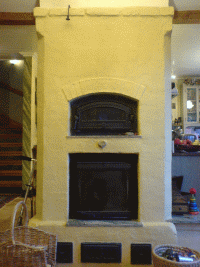 Similarly I gave an evening talk to over 80 in Jarna to a class studying environmental issues at a Steiner school (and members of the public). I threw away the script and had an uncomfortable start but an ultimately equally satisfying evening exploring the concept of Transition with them. I hope they understood that Transition is a process of 'throwing away the script'!  I was hosted by Peter and his community on a small farm who are of course putting in place many pieces of a resilient small holding, and I was introduced to the wonderful Swedish clay stove, one of many on my trip (see right).
Cemus has been developing for over 10 years a new and challenging model for universities. Formed by students who design the courses and curriculum in response to the lack of environmental modules at Uppsala University – the biggest in Sweden- we had an afternoon discussing Transition and how Cemus might be a model for starting Transition Universities. Rather than having to start something new this is a way to create courses in environmental subjects that can bolt onto any university curriculum, a self organising piece of the university.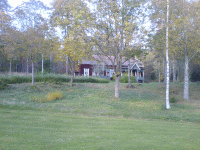 The first Training for Transition in Sweden, was held at Sätra Brunn (see left), an ancient healing centre founded amongst 9 wells which have purported healing qualities. This weekend was attended my most of the founding members of the Transition Sweden initiating group and 17 others from a wide area of Sweden. Myself and Paul Hendriksen from the Transition Netherlands coordinating group facilitated the weekend in this beautiful and historic place. I was surprised at the range of people attending, many of whom had never done this sort of work before. Almost all commented on the 'Inner Transition' and our Joanna Macy structures. It is the fusion of inner personal development work and outer social change and environmental issues that constantly delights participants on our training. It seems to 'fill in a blank' that for most seems compelling, strengthening, and surprising.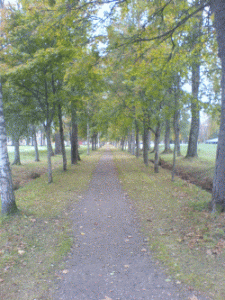 In a short period of time we find away to connect an individual to the earth, and to his or her social and political world; a frightening but deeply moving prospect in a world undergoing such tectonic shifts ! We can be ourselves in this movement , finally we don't have to leave any of ourselves out in Transition; which  is I think part of what is so exciting and compelling. I think this ancient healing site also helped us conduct our 2 day journey in Transition.  We were also helped by the indoor swimming pool, sauna, and a troop of outrageous women acappella singers who performed for us on Sunday over another sumptuous feast.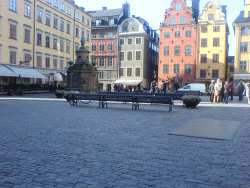 Transition Sweden also took advantage of my trip to promote their ideas, hosting a number of press interviews with P1 the Swedish national radio, and local radio, a blogger named Johan, and several newspapers who turned up to a press conference at the headquarters of Hela Sverige Ska Leva, an association of rural communities that hosts Transition Sweden, at their headquarters in the old square in Stockholm (see left).
I also did talks for the newly formed Transition Initiatives in Uppsalla, Jarna, and Gotenberg. I also talked to the SNF the largest nature conservation society in Sweden and Effekt – a new magazine dedicated to climate issues with the Transition movement featured on their inaugural front cover.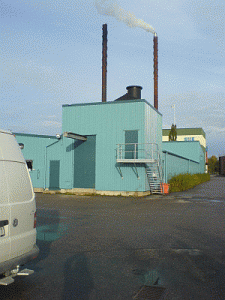 Sweden is way ahead of anything we are doing in the UK in terms of putting in place the physical infrastructure that will make us resilient as we lose our fossil fuels. This is because they have no fossil fuels, but rather lots of natural resources, and a small population. They are the only European country, despite living a high energy and consumption lifestyle, that is within its ecological footprint. A visit to SHE, the local energy company of Sala (see right) showed why.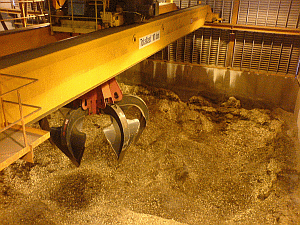 This is an 100% locally owned energy company who delivers not only electricity but hot water, central heating, and broadband to their customers who are more than 60% of the people of Sala and Heby. All of their energy production is renewable, mostly combined heat and power burning biomass, but with a bit of bio fuels and solar pv (see left).  Most of the electricity generated in Sweden is from non fossil fuels, with a mix of renewable, hydro and nuclear, and with many small scale community owned power companies like the one I saw in Sala. The cost of energy is less then 50% of what it would cost from fossil fuels so it makes economic sense. Any Transition Initiative that wants to see how to do it should come to Sweden- it works!
My final reflection is that Sweden has many wonderful pieces of the Transition to a sustainable society. However these pieces are spliced onto an industrial growth society which makes the whole thing, of course, unsustainable. Take out the industrial growth beliefs and processes and you would have much of what we need to live well. Perhaps Transition Towns can stimulate this missing piece and enable Sweden to make the turn, the transition, rather quickly by stimulating the national debate about where we are headed. Maybe.
Naresh Giangrande