7 Nov 2009
The Transition North Conference, with audio files….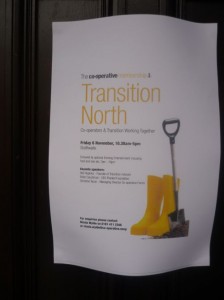 I travelled up last Friday to Slaithwaite in Yorkshire for first Transition North conference, which was supported by the Co-operative and attended by people from the Transition and Co-operative movements across the North of England. It was a wonderful day. Dynamic, positive, creative and very well attended. Hosted at the Civic Hall in the town, it was supplied with wonderful local food, and was very well organised by the Transition Marsden and Slaithwaite group.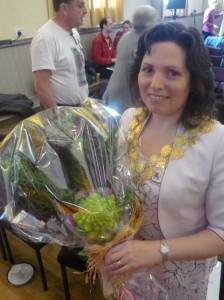 The day opened with a short introduction and welcome from the Mayor of Kirklees, Julie Stewart-Turner, who has made local food the key focus of her Mayorship, and who was later presented with a 'veg bouquet (see right) a nice Transitional twist on the traditional more floral bouquet. Chaired by Transition Network chair Peter Lipman, I was first up, giving an introduction to peak oil, climate change, resilience and Transition. I used Shaun Chamberlin's four future stories (Denial, Hitting the Wall, the Impossible Dream and the Transition Vision) to explore how the relationship between Transition and the Co-operative might look in 15 years time.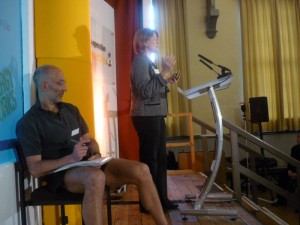 The second speaker was Christine Tacon (see left) from the Co-operative Farms organisation. The Co-op farm 50,000 acres of land in the UK, growing mostly for their own stores. The first farm was brought in 1896. They produce a wide range of produce, mostly fruit and vegetables. The UK is currently only 11% self sufficient in fruit, and 58% self sufficient in vegetables. The irony is that the huge amounts of food the UK imports is not stuff that couldn't be grown here. 25% of imports come from the Netherlands and from France, which have similar climates to the UK.
The Co-op's aim is to produce 25% of British grown produce sold in their stores by 2011. Initially this was a struggle, but now the Co-operative stores are asking them 'what more could you do?', given the increasing demand for indigenous produce. She talked about the Co-op farm of which she is most proud, Coldham Farm. It now has 8 2MW wind turbines, with 7 more planned. They also have a huge number of school visits, 20,000 kids visiting every year.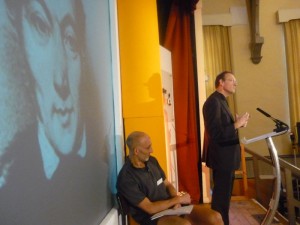 The third speaker was Peter Couchman of the Plunkett Foundation (see right). He explored the origins of the Co-operative movement and its parallels with Transition. He talked about the founder of the Co-operatives movement, Robert Owen, who, in the 1820s, started to identify the need for community ownership and addressing their own needs around work, social justive, education and so on. A later figure, Dr. William King, argued that Government was not going to do this for people, that they needed to take control and organise their own structures. He advocated starting simple, that people grow their own food together, then set up a shop to sell it, then buy some land, then set up housing schemes and so on, but to start with what seems manageable.
The Rochdale Pioneers were the first modern Co-op in history. Their motivation, which resonates with where Transition is coming from, was "to create a self-supporting home colony". Peter said that, as far as he saw it, Transition and the Co-operative movement are not different movements, rather, looking back through history, there is wave after wave in each generation who call for societal change, it goes in cycles. Each generation thinks "this is our moment", and that the challenges that underpin their approach "have never been so bad". He suggested that this current wave is no different. The Co-operative movement globally now has 800 million members, and, here's your jaw-dropping statistic for the day, employ 10% more people than every multinational put together.
He talked about the Plunkett Foundation, set up to promote rural co-operative and self reliance, focusing on better farming, business and living. He listed some of his favourite projects that Plunkett have supported, community village shop buyouts, pubs and CSAs. One of his favourites was in Lanreath in Cornwall, the Lanreath Shop and Post Ofice, which was a converted public toilets. "The ultimate convenience store", he said. He stated that the key work of the next few years is working out how to piece together the various ingredients of the local food system.  You can download the mp3 of the audio of the morning's session here.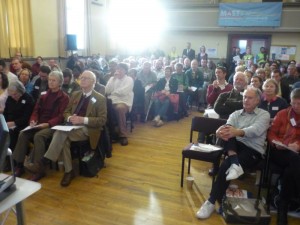 Then each speaker asked the audience a question which the audience discussed in pairs. Then there was time for questions and answers which were very interesting. Lunch was a wonderful spread of local food. Then, for the afternoon, a dazzling array of workshops was available for people to choose from. I went to one about ChangeMakers, a short workshop being developed by MASTT which they have piloted with the local community, and one about a fantastic initiative in Slaithwaite called 'The Handmade Bakery'. This was a Community Supported Bakery, part of the rapidly emerging 'Real Bread' movement, inspired by Andrew Whitley, making proper long fermented bread which is sold in Marsden and Slaithwaite. I took some notes and I'll perhaps write them up as a subsequent post.
The final session was a plenary session, with questions and answers. Bob Burlton, Chair of the Board of the Co-operative Bank, Helen Seymour, from Co-operatives UK and the Plunkett Foundation (who I wrote about a while ago after seeing her workshop at the DTA conference a couple of months ago) and myself. Some great questions, some good discussion. Questions ranged from "how can we avoid Transition becoming parochial?" to "do we really need to still talk about peak oil and climate change?", and from "could the Co-operative become the first shops to actually encourage people to shop less?" and "what's the role of social justice in Transition?"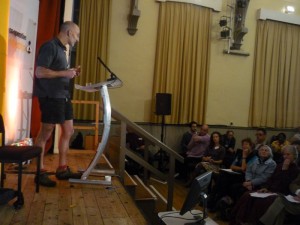 The day rounded up with the drawing of the raffle, a big vote of thanks to everyone involved, and Peter Lipman (right) gave a touching closing reflection on the day's proceedings, reflecting on how Transition and the Co-operative movement share an understanding of the fundamental importance of working together and creating meaningful change through shared action. It is the taking of practical action that takes us to meaningfulness. Happiness is achieved though meaningful activity and meaningful activity needs to happen with other people. He spoke of how he has observed his own happiness rising through his involvement with Transition, and has seen the same thing in others.
Disagreeing with Bob Burldon's comment that climate change is fundamentally an energy problem, Peter stated that we won't successfully be able to change what we do in the world, unless we can first change how we are inside. This means doing work on how we are, thinking and feeling about our wants, needs and desires, as is covered in the Heart and Soul aspect of Transition, the aspect that is discussed far less often than other aspects of the Transition process.  A second mp3 file, of the afternoon plenary session, including Peter's summing up, can be downloaded here.  (Volunteers are being sought to transcribe these files, if you are interested, do get in touch).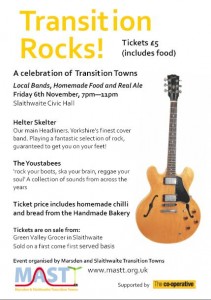 And then that was that. Peter, Ben, Ed and I hopped on the train in Wakefield for the long haul back south, leaving Slaithwaite to party the night away at 'Transition Rocks', with food, beer and live music (and a great poster featuring my favourite kind of guitar). The day was a fantastic occasion, and the bringing together of Transition and Co-operative thinking was the start of a dialogue that will, no doubt, continue to deepen and evolve in the coming months and years. Our deep gratitude to the Co-operative for their support of this wonderful event, to Indymedia for so swiftly making the audio files available, and to all involved for making it such a success.