11 Nov 2009
Why the last thing London needs is more Clouds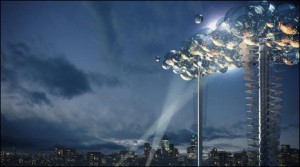 Gah.  I feel a rant coming on.  Here's a crap idea for you.  The BBC announced today the idea of 'The Cloud', a new hideous construction to grace the city's skyline in time for the 2012 Olympics.  It would take the form of a "giant cloud" that would "float" above the city skyline (well, at nighttime anyway, during the day it would merely look like the ugly and ridiculous construction it actually is).  The structure, tall mesh towers with ethylene tetrafluoroethylene 'bubbles' on top, would reach 120 metres into the London skyline, where it would be used to project "weather information, spectator numbers, race results" and so on.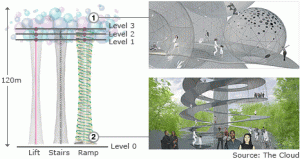 It would have an observation deck and park, and the idea is that it would become a visitor attraction in its own right.  In order to stop it feeling like another invasion of the city's mental environment, and the ultimate advertising screen which is really what it is (until projecting adverts onto the Moon gets the go ahead), the designers are presenting it as a "celebration of technology", and propose that it is funded by the micro donations of millions of people.  If you give them £1, you are paying for one pixel on the screen. Apparently this is "a monument to crowd sourcing".  What an abuse of a fine and otherwise useful concept.
And in case you're worry about the environmental impact of this monstrosity, its fine, because it is actually the "zero power cloud", being run by solar cells and harnessing the kinetic energy from the falling lifts.  That's alright then.  I presume that they are also keeping the embodied energy of the structure down by using local and low embodied energy materials; locally harvested timber, clay plasters and some cob walls in the downstairs part for thermal mass?         No, I thought not.
According to the photo accompanying the piece (see right), helmeted cyclists will be hurtling around the inside of the structure (going so fast as to be blurred), right next to pedestrians and a flimsy handrail the only thing between them and a 120 metre plummet to a certain death.  Not sure the designs in their current form have been run past Health and Safety.
I think there's a human rights issue here.  As it is, our mental environment is being encroached upon and eroded by advertising and uninvited messaging at every turn.  Walk into Kings Cross station and your eyes are at once drawn to the huge screen with Sky News broadcasting 24/7.  Adverts now follow us on and off buses, the Tube, into films we watch and all over the internet.  That's bad enough.  But to put this Cloud into the sky, projecting news and advertising 24 hours a day is an invasion too far.  Perhaps I want to be able to walk across London during the Olympics and not know who won the 400 metres.  And after the Olympics?  You can bet it will end up like the Kings Cross screens, advertising, 'news', celebrity tittle tattle and more advertising.
While I think there may be a role for "celebrations of technology", the kinds of technology I want to celebrate are those that are appropriate in scale, contribute to the strengthening of community and culture, are capable of functioning in a lower energy world, have low embodied energy in their creation, can be owned by the communities surrounding them, not by distant corporations, and which are aesthetically pleasing.  I see little to celebrate about technology that flaunts itself in your face whether you want it to or not, sells itself to the highest corporate bidder, and allows corporate messaging to elbow its way into your mental stream unbidden at all hours of night and day.
If we want to actually leave a legacy of value to a city of 7.56 million people on the verge of facing the harsh realities of energy descent and of a world running out of oil faster than was previously thought, surely we can do better than to spend up to £50 million on a glorified advertising hoarding. How about retrofitting the housing stock, taking land out of development for the creation of urban market gardens, renewable energy, thinking through seriously how a city like London is going to feed itself, mobilising a generation of young people to be the 'green collar' skilled workers of 5 years time?  Perhaps we might crowd-fund for that instead?  Surely the intention should be to sort out and futureproof what already exists before building new things like this?
The article states that Boris Johnson, Mayor of London, is "still deciding" whether to give the project the go-ahead or not.  We can only hope that common sense prevails.  Perhaps his recent encounter with Frannie Armstrong, producer of 'The Age of Stupid', where he rescued her from a girl gang, will have rubbed off, and he will come to see the lunacy of taking a bunch of carbon intensive materials, assembling them in a carbon intensive way, to create an unnecessary structure that people will fly to come and see, and which will be used to advertise more unnecessary carbon intensive stuff that they don't need and that the planet can't afford.  Or perhaps I've missed something, and its actually a great idea.  Help me out here.