12 Nov 2009
'Local Food' Reviewed in Permaculture Magazine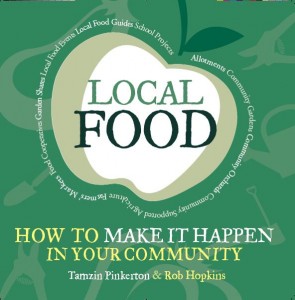 LOCAL FOOD: How To Make It Happen In Your Community. Tamzin Pinkerton & Rob Hopkins. Green Books, 2009. 220 x 220mm, 216pp. £12.95
As the twin issues of Peak Oil and Climate Change become more widely discussed, more people become interested in prom-oting local food as one of the steps towards self-reliance. But how do you go about it, and what do you do if there is no local food to promote? The decades of industrialised agriculture have seen local food links wither and orchards grubbed up. Local Food, the latest book in the Transition series, aims to help local communities rediscover their food culture and in doing so rediscover community itself.
The introduction and the first chapter cover the environmental issues, politics and history of local food, and it's easy to become bogged down and despondent, but once you're past that and into the chapters about different types of local food schemes, the book becomes both inspiring and a wealth of useful information. There are chapters on reskilling, home vegetable gardening, allotments, garden shares, community gardens and orchards – highlighting the need to grow the local skills base as much as mile-free wholesome food. Each chapter has several case studies of projects that are underway, and could be replicated elsewhere, but it doesn't view them through rose-coloured specs and the problems are examined as much as the successes. There are also articles on each topic by familiar names such as Graham Burnett, Patrick Whitefield and Richard Reynolds.
After the chapters on schemes that involve getting your hands dirty there are ones on other local food projects, such as community supported agriculture, farmer's markets, food co-ops and school schemes. And then there are ideas about projects which are related to, but look beyond, local food. The final chapter offers a step-by-step guide to starting a local food group, whatever style of project you have decided upon, and is followed up by an extremely comprehensive references section. Inspiring, informative and a sturdy reference guide, Local Food is destined to be the bible for local food groups for years to come.
Emma Cooper, author of The Alternative Kitchen Garden. You can find her blog here.
This review was first published in Permaculture Magazine issue 62.  Read a FREE copy of Permaculture Magazine online.