13 Nov 2009
The Future of Food conference, Conway Hall, London. 12th November 2009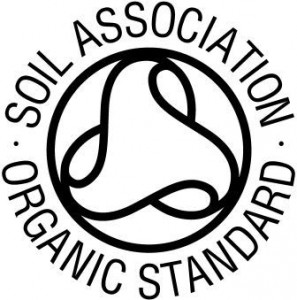 Oh these mad Devon-to-London-and-back-in-a-day trips, I really must learn not to do them. I'm writing this on the train home after the train was stuck for half an hour at Pewsey due to a failed signal, which the driver waited for and then, it would appear, noted that it wasn't working and just thought "sod it", and carried on through it. Not sure if that's standard procedure, anyway, at least we're moving again. So, this is a write up of the 'Future of Food' event organised by the Soil Association, its International Conference, which was the cause of my early rising and late return home.
There were lots of speakers at this conference, so I'm not going to give you a write up of every one, just a few of the highlights gleaned from my very poor notes.  Any appalling misrepresentation of what people said is my own fault entirely. The first session was titled "The Food Crunch: How serious is it?"  I arrived to hear Prof. Bob Watson, Chief Scientist at DEFRA, giving his talk about climate change and the challenge it presents to agriculture. In stark and powerful contrast to an appalling presentation about climate change and agriculture that I saw at the Transition Farming event in Exeter earlier in the week which basically said that a 2 degree rise in temperature would leave England like the Algarve (no mention of what sorry state the Algarve would be in) with olives and peaches, enough to make anyone rush out and buy a 4X4 to bring it on, this was the real deal. Most of the world's 'food bowls' will become drier, Watson stated, there is a very significant threat to the world's ability to produce cereals and grains, as well as impacts on fisheries and livestock.
We need, he argued, to prepare for a 4 degrees world. As part of that, we need to give serious consideration to GM technology because of the threat of climate change, that some varieties can reduce the reliance on nitrogen fertilisers and therefore lower emissions. We need to increase public and private investment, have a balanced trade system, innovation and we need to double the available food over the next 25-50 years.
Climate change presents both challenges and opportunities he said. He was asked a question about relocalisation and what role it could play, and he came up with the extraordinary statement that the world could needed globalisation, economic growth, technology and relocalisation all at the same time! It was however excellent to hear someone so high up in DEFRA acknowledging the scale of the threat to agriculture from climate change and that business as usual is no longer an option. His talk did however, reveal the pitfalls of looking at climate change without also thinking about peak oil, and the spectre of GM loomed over the stage as he spoke, in the same way that 5 years ago we were told that we needed to keep 'an open mind' on GM, and have a 'public debate', and now here we are with the announcement of 10 new nuclear plants being built.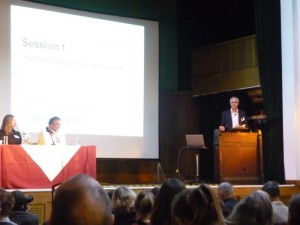 Then Patrick Holden, Director of the Soil Association responded, pointing out how far DEFRA have moved in recent years and how welcome Watson's speech was. He then set out the Soil Association's take on the future of food, arguing, as is set out in the 'Food Futures' strategy document the Soil Association published that day (not available online yet, I'll post a link when it is), the key ingredients of a resilient food system. These included the need for a national food plan, for identifying a sustainable diet for the UK, and a call for a Great Reskilling. We need a framework for international trade, restricting international trade in crops that could be grown here and in unsustainably produced food. It is, he argued, a project on the scale of a war effort. He noted the huge interest in local food production and food growing at the moment, likening it to how animals know there is a tsunami coming. Something has changed, he said.
Deborah Doane, director of the World Development Movement then discussed the role of speculators in driving food prices up, the dangers of food being a commodity and the influence of corporations on the food system. The world supply of key foods is now in the hand of a very small number of corporations, for example in the UK, 75% of food is sold through just 5 supermarkets. It is important that we understand that trade liberalisation does not lead to food security. Corporations have gained huge influence over policy makers through the role of lobbyists.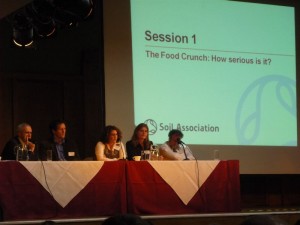 Julia Wright of Garden Organic and author of  Sustainable Agriculture and Food Security in an Era of Oil Scarcity: Lessons from Cuba, spoke about the research she had done in Cuba about the experience of the Special Period and the time shortly thereafter. So, for those of you who don't know the story, in 1989, the Soviet Union collapsed, it lost 50% of its diesel and food imports, 75% of its petrol and agrichemicals, leading to a 30% fall in domestic food production and a 50% fall in sugar production. On top of this, they had to cope with US sanctions.
Between 1959 and 1989, Cuba had developed an intensive industrial agricultural system, very oil dependent. Then, so the myth goes, Cuba went organic and fed everyone. Not that simple though, she told the audience. The reality was that people only got one meal a day, essential commodities such as soap were unavailable, transport fell by 80%, and people started growing food in urban areas. After initial scepticism, the Government began to support it. It focused on horticulture, salads, herbs, tomatoes etc, but only managed to produce 5% of the total national consumption. Yields could have been higher if tropical varieties were grown, but people tend to grow temperate vegetables.
Some of the things Government did included a national nutrition surveillance plan, where an eye was kept to see if everyone was getting sufficient nutrients. It strove to secure equitable access to available foods, to promote self sufficiency among the people, and to import food shortfalls. Many people had allotments at their work. Farm sizes shrank. The lessons from the whole experience were that national food security is achievable with political will and cohesive action, petroleum scarcity forces relocalisation, petroleum scarcity alone does not lead to a more resilient agriculture, knowledge and intent are also required, and that a low impact agriculture does not alter the environmental and health problems of industrialised food systems.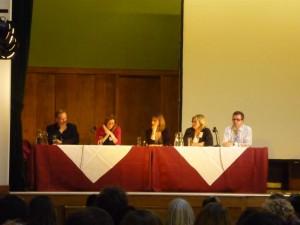 After the break, the second session was entitled "Who's responsible for change? What is the role of government, civil society, industry, and individuals?"  Rosie Boycott talked about the amazing work she and London Mayor's office are doing in the Capital Growth project, trying to get 2012 new food gardens in place in the city in time for the Olympics. Food being grown in new raised beds, dumpy bags, skips, on rooftops. Great stuff. Then Sue Dibb from the Sustainable Development Commission talked about what they are doing, and then Paul Kelly, Head of Corporate Affairs at ASDA talked about all the things ASDA is doing to reduce its carbon footprint. He said that ASDA provided a vital social function in providing cheap food, and that it was committed to making it as sustainable as possible. He said that he thought relocalisation was a good idea, and that he could see a strong role for the supermarkets in it. He was quizzed by Rosie Boycott as to how ASDA could talk about healthy eating while selling cheap chickens, he replied that they tried to get people to buy free range ones, but that they had to supply demand.
Peter Melchett of the Soil Association talked about the role of organic farming in meeting the low carbon agenda. He acknowledged that Bob Watson's talk was the first time he had heard Government saying that business as usual won't work. We need to start by asking 'what is local food?' and everything will then follow from that. He criticised DECC's Low Carbon Transition Plan's target of 6% cuts in emissions from farming as appallingly lax and that it should be more like 20%. Ultimately, he concluded, we vote as to what food system we want three times a day at mealtimes. Then another tea break….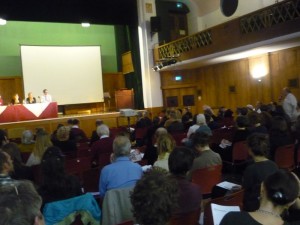 In the last session, "What are the alternatives and how do we support innovation in the food system?", I was the opening speaker. I talked about Transition, starting with telling stories about some of the recent exciting developments, the Brixton Pound, the Taunton Resilient vision document and some other things. I talked about the local food plans being drawn up in different places, and the Can Britain Feed Itself project Transition Network is starting to plan for. I said that when peak oil is woven into Bob Watson's mix, things look very different. I talked about relocalisation, about resilience, and concluded by talking about a conversation I had had over lunch with someone about when did I think the government would embark on a programme of resilience building and relocalisation, would it conceivably happen before a crisis was in their faces? I thought probably not, but with the great work that Transition initiatives, the wide range of local food organisations, the Soil Association and other are doing, when they do, perhaps they will find the food networks needed already in place, the reskilling required underway, food plans complete.
Then Andy Goldring of the Permaculture Association talked about an 'Agricultural Revolution' underway, with permaculture and many related practices. It is not just about agriculture and food, it is also about how we learn. We have now learnt how to learn better than we ever could before, he told the audience. Illustrated with examples of permaculture in practice around the world, his point was that innovative thinking around the redesigning of systems is not just a concept, it is already happening.
Phillip Blond, Director of ResPublica, gave a fascinating short talk about the policy framework that might be needed in order to enable relocalisation. One of the key challenges now, with the breakdown of social capital, is community formation, he argued. Change begins by people trusting each other over small things. Relocalisation calls for the reversing of a political economy that has made centralisation pay. It is not a case of being anti-markets, rather of harnessing free markets to good ends, with mechanisms such as Personal Carbon Trading, which supports people in living lower carbon lives, and wellbeing indices. It was a fascinating talk about the potential of policy to turn things around.
The last panellist was Jeremy Leggett, who said that he was concerned that Copenhagen was going to be a washout, and that his hope was that it failed spectacularly rather than just produce something halfhearted. It was looking as though Western economies who managed to find massive pots of money to bail out the banks are unwilling to find a fraction of that to support the export of low carbon technologies to the developing world. He referred to the IEA and this week's revelations of the fiddling of the figures, likening it to the financial crisis, what he called 'the bonus cultists and their casinos'. Inspiring as ever, he talked about his experiences of talking to people who manage pension funds and hedge funds, many of whom are aware of the gravity of the situation.
Then, for the finale, it was Vandana Shiva, whom regular readers will know is a bit of a hero of mine. The oil-based farming model is, she said, inherently unsustainable. India is home to one quarter of the world's farmers, yet in spite of growing food, 50% of those in hunger in India are farmers.  Why?  Because they cannot consume what they grow, they are saddled with huge repayments, and when they buy back the food they have to pay 4 times what they were paid for it.  The great economic 'miracle' that India has experienced has left over a quarter of Indians hungry.
She spoke about climate change, and how there is no genetic engineering for climate change.  Monstanto and others now have 530 patents for climate resistent traits in plants, which are not even actually created, a computer programme is used to test for likely genes, but this is, again, the privatisation of the genetic property of the South.  A monopoly on genetic information is the end of farming.  This privatisation of life is being played out in Copenhagen, where large biotech companies are arguing for carbon credits for GM technology.
There is now a war against farmers and consumers.  Pseudo health and safety regulations are driving small producers off the streets, in India, street food stalls are disappearing.  Leave hygeine to us, she said, we know how to do it thank you very much.  We don't need the industrial system for growing food, we can do it better. Governments, she said, are unable to lead, they are increasingly just co-opted by industry.  Civil society has to lead the change.  We must localise our agriculture, but globalise our politics, or else the future of food, is a future of no food at all.
And that was that.  A mad dash through the London Underground, delayed tubes, missed trains, home at 11.30, missing that evening's event with Eric Schlosser.  A good day though.  For me the panels of speakers model is a bit past its sell by date at this stage, all the great gathered wisdom in the room, and we just all have to sit and listen to speakers all day.  However good they are, it always feels like a missed opportunity to network, share ideas, discuss and find out the amazing things people are up to.  Anyway, a very powerful mix of speakers, plenty of food for thought, and good to see so many old friends under one roof.